I am a fashion editor and these are the capsule wardrobe essentials I swear by
All about that mix and match.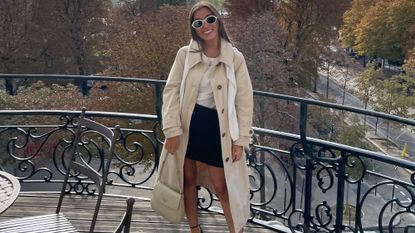 (Image credit: Future/@zoepopi)
If the concept of creating a capsule wardrobe has left you scratching your head, then you've come to the right place. While it might seem like 'capsule wardrobe' is a buzzword that has been circulating in the fashion industry for some time, the premise is actually quite simple. It pertains to the idea of investing in key wardrobe pieces that can be used to build outfits and be endlessly mixed and matched.
A capsule wardrobe is not about statement items, but rather the kind of wardrobe foundations that feel seasonless and can be worn on repeat or styled alongside other pieces that have equal longevity. Think a timeless camel coat, a classic blazer, a white t-shirt and the perfect pair of blue jeans.
Creating a capsule wardrobe for yourself is the easiest way to take the guesswork out of getting dressed. As a Fashion Editor, I rely on a capsule wardrobe of about 15 pieces and I can confidently say that it has helped me streamline my morning routine. Over the years, I have invested in a set of timeless basics that will never go out of style (and have even tailored a few items to ensure the perfect fit on my petite frame). These have become the pieces I mix and match constantly, wearing each in new and different combinations.
My capsule wardrobe in action:
Image 1 of 7
From my tried-and-trusted Barbour trenchcoat to my favourite Levi's jeans, everyday gold jewellery and wear-with-everything chunky ankle boots, below I have outlined exactly which pieces keep my closet in check. In fact, I have tried to keep the shopping list below as close to my actual wardrobe as possible—you're welcome!
As the seasons change, so too do the closet staples you need. The edit here is specific to winter, but as the weather improves, there's no reason you can't swap out that winter coat for a cute linen dress, or replace those ankle boots with a chic summer sandal.
Indeed, the options are endless when you opt for quality, timeless essentials. Keep scrolling to shop my 15 piece editor-approved capsule wardrobe below.
Shop my capsule wardrobe below:
What do I need to start my capsule wardrobe?
This is by no means an exhaustive list, but here are some ideas to get you started on your capsule wardrobe. You probably already own several of the pieces below.