'The heels are a little lower than my personal taste' Heidi Klum talks us through her Lidl collection
Heidi Klum just hooked up with Lidl to design her first supermarket fashion collection. We flew to LA for a sneak preview...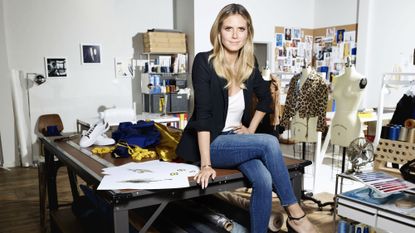 (Image credit: Rankin)
Heidi Klum just hooked up with Lidl to design her first supermarket fashion collection. We flew to LA for a sneak preview...
It's already a worst-kept secret for its great cheeses and £10 bottles of champagne, and now German supermarket chain Lidl is after your wardrobe – with a little help from one of Deutschland's finest fashion exports: Heidi Klum. Heidi Klum's Lidl range, a new 18-piece collection designed by the supermodel exclusively for the budget chain, is a seminal moment in the world of supermarket clothing, which has been nibbling away at the high street's monopoly on affordable fashion for some time.
Klum has already demonstrated a smart eye for design with her bestselling Heidi Klum Intimates range; now she's setting these skills to an even bigger template. And it is big – with a campaign shot by photographer Rankin, Esmara by Heidi Klum will launch in September in 10,000 UK and European stores in 30 different countries.
When Heidi met Lidl
When we meet in LA for a preview of the collection, Klum is modelling it head to toe. She's wearing the jeans (a classic skinny fit) with pointed suede pumps, a camisole and blazer she slips on and off to show me how other pieces in the range look off the hanger.
'Every girl needs a great pair of jeans, a great spaghetti top to go under your blazer – and then you need something fun,' she says. The 'fun' in this case comes from the line's little Klum-approved flourishes, like a bomber jacket coated in black sequins and leopard print that pops up on pointed heels capped with electric-blue suede. She pulls out a pencil skirt with a zip running up the middle. 'If you wanna be a bit more sexy you can, you know... whoop!' she grins, unzipping it halfway.
Quality control
Klum is aware that low-cost fashion can often mean low quality. 'A lot of affordable [clothes] you wash once and can basically wear once,' she says. Even though the collection definitely hits the affordable mark (a camisole costs £6.99), she believes every piece would pass the test with her designer-loving LA friends. One of these friends has, in fact, already put in an advance order for the brown suede biker jacket.
She plucks the very item from a clothes rail and thumbs the suede. 'I don't think people would believe this jacket was Lidl,' she says, pronouncing it 'Leedle', rather than 'Liddle.' She also says she would never put her name to a range that wasn't ethically made. 'What was important for me is that we didn't have children making these clothes in countries around the world and that we're not hurting the environment.'
There was one thing she did have to compromise on, though – the heels. 'I had to keep them a little lower than my personal taste.' When you've spent 30 years in the fashion industry, she insists, skyscrapers 'feel like flip-flops'. What would she say about this collection with her Project Runway judge hat on? 'Job well done,' she winks. 'You're going straight to the finale.'
Heidi Klum's Lidl range, esmara by Heidi Klum is available in stores now
Celebrity news, beauty, fashion advice, and fascinating features, delivered straight to your inbox!