Over 50 new Tom Ford lipsticks are dropping tomorrow so take out a bank loan
I was busy dreaming about boys (and girls)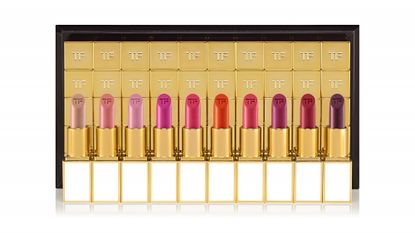 I was busy dreaming about boys (and girls)
Lipstick aficionados, sit down for a second. We've got something important to tell you and you may want to refinance your house. Tom Ford Beauty is releasing over 50 new lipstick shades tomorrow and you're going to want all of them.
If you're strong on your Tom Ford game, then you'll know that the brand recently released 44 Lips & Boys shades which have been racking up attention. (Cristiano, you're still one of our favourite red lipsticks.) Well, they're going to be balancing out the gender divide and releasing a new Girls line, spanning 50 different colours from baby pink to deep mahogany. Aside from a diverse range that could give Fenty Beauty a run for its money, all the lipsticks come in a gold and ivory case small enough to fit into a clutch.
They'll also be re-releasing the Lips & Boys collection and adding six more shades, to round the Boys and Girls out to an even 100. As is tradition, all the new Girls shades will be named after somebody important in Tom Ford's life and we've had a whale of a time guessing who's who. While some may be more obvious like Naomi Campbell's deep burgundy or Scarlett Johansson's sophisticated pink, we were scratching our heads a little with Emma, Katherine and Joan. Any ideas?
If you're looking for a great Christmas present, they'll also be selling three piece Girls gift sets for the TF fan in your life. If you're an obsessive and really want to treat yourself, you can also invest in the 50-piece chest in either Boys or Girls. Life is too short to not wear a different lippie every day.
The witty and sensual campaign for the new collection riffs off the seemingly unending list of names, gender-bending and diversifying sexuality every step of the way. The video tells the story of how Bianca met Emma noticed Zelda fell for Nico wanted Conor...you know what, just watch the video below. It's too long a story to tell.
When is the Tom Ford Girls lipstick release date?
The entire collection drops September 15 and you'll be able to grab it the Tom Ford website as well as across UK retailers. (They'll probably go quick though.)
How much is the Tom Ford Girls collection?
One lipstick costs £29, while a three-piece lipstick set will put you back £87 (the ideal luxe stocking stuffer just in time for Christmas). If you're really serious about your lipstick obsession, the 50 piece set will put you back an eye-watering £1,500.
Where can I buy the whole collection?
You can buy the entire collection at Selfridges, John Lewis, Harvey Nichols and House of Fraser online.
Boys & Girls 50-Piece Gift Set in Girls, Tom Ford
Why not just get the whole lot? If you want the ultimate Christmas present, this huge collection will score you all 50 shades from Alexis to Zoe.
Boys & Girls Three-Piece Gift Set in Leigh, Sophia and Naomi, £87, Tom Ford
Make an impression with these bright pink and red shades, which will take you from day to night in just a swipe.
Boys & Girls Three-Piece Gift Set in Katherine, Alexis and Julianne, £87, Tom Ford
These three shades are great for beauty queens who can't get enough of their brown-based neutrals.
Girls Lipstick in Alexis, £29, Tom Ford
This gorgeous mahogany lippie is the perfect colour for autumn and could be a great nude for those with darker skin tones.
Girls Lipstick in Amber, £29, Tom Ford
This gorgeous rose gold shade is a fun twist on highly pigmented neutrals, throwing a hint of gold into the mix.
Girls Lipstick in Dakota, £29, Tom Ford
This soft pink shade is probably named for Dakota Fanning, who's a big fan of the brand (and the man). This demure pastel shade is a great shout for a daytime look.
Girls Lipstick in Emma, £29, Tom Ford
We're going to go out on a limb here and say that this rich red is named for Emma Stone, with her big personality and formerly bright red hair.
Girls Lipstick in Joan, £29, Tom Ford
Bless whoever Joan is for this mauve shade, which will take you from the office to the cocktail bar.
Girls Lipstick in Julianne, £29, Tom Ford
Julianne Moore, maybe? This glittery pink is Amber's warmer cousin (and no less pretty).
Girls Lipstick in Katherine, £29, Tom Ford
Looking for a new nude? This could be it - thanks, Katherine.
Girls Lipstick in Leigh, £29, Tom Ford
We're still in love with a good coral and TF's punchy shade in Leigh is an absolute staple.
Girls Lipstick in Lena, £29, Tom Ford
We've got a strong feeling that this icy blue shade is named for the Queen of the Iron Throne herself - Lena Headey. That said, we wouldn't be surprised if Joey from Friends was out promoting this somewhere.
Girls Lipstick in Lily, £29, Tom Ford
This pewter colour is a love it or leave it shade, but in any case you'll be turning heads.
Girls Lipstick in Loulou, £29, Tom Ford
Ready to really make a statement? This whimsical purple shade says it all.
Girls Lipstick in Naomi, £29, Tom Ford
Three guesses who this shade is named for. (Tip: she's tall, a supermodel and her last name rhymes with Shmapbell.) This dark red shade is the perfect shade for autumn and means real business.
Girls Lipstick in Nico, £29, Tom Ford
As the darkest shade in the entire Girls collection, this deep brown colour makes a real mark.
Girls Lipstick in Scarlett, £29, Tom Ford
How many famous people do we really know called Scarlett? ScarJo would totally rock this bold pink, which teeters just on the edge of crimson territory.
Girls Lipstick in Sophia, £29, Tom Ford
This playful ballerina pink shade will have you Swan Lake-ing in no time.
Girls Lipstick in Zelda, £29, Tom Ford
It may be the nerd in us, but we're holding out hope this bold fuchsia stands for Princess Zelda.
Girls Lipstick in Zoe, £29, Tom Ford
Fingers crossed this shade's for our girl Zoe Kravitz. In any case, we adore it.
Celebrity news, beauty, fashion advice, and fascinating features, delivered straight to your inbox!
Megan is a freelance journalist who covers entertainment and all things lifestyle, with a particular passion for fashion, beauty, travel and Keanu Reeves stories. She has previously worked on staff for titles including Marie Claire UK, CNN Style and The Evening Standard and has written for titles such as Bustle UK, Wallpaper*, Forbes and Hong Kong Tatler. She splits her time between London and her hometown Hong Kong, where she currently lives with the love of her life - an elderly dog named Poppy - and her husband.