Rihanna slammed for wearing ostrich feather outfit
The pop superstar is in trouble with animal rights group PETA for her ostrich feather top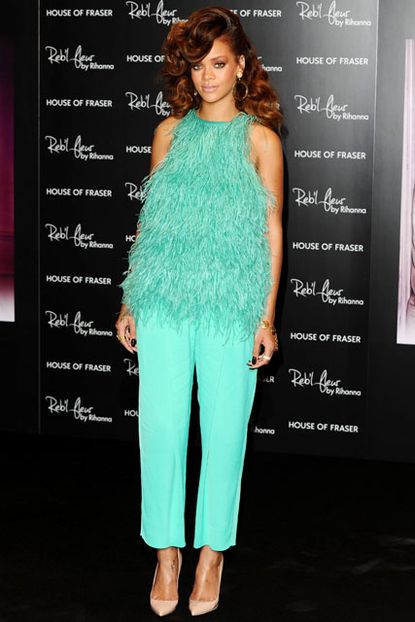 (Image credit: Rex Features)
The pop superstar is in trouble with animal rights group PETA for her ostrich feather top
Uh-oh, it seems Rihanna has ruffled a few feathers with one of her latest fashion looks.
The pop superstar has come under fire from animal rights group PETA over an outfit she wore recently that featured ostrich feathers.
The Umbrella singer wore a turquoise feathered top and matching trousers by Lincolnshire-born designer, Antonio Berardi, for an appearance at the House of Fraser department store on London's Oxford Street to promote her new perfume, Reb'l Fleur, two weeks ago.
And the star has come under attack for her choice of attire.
PETA spokeswoman, Sandra Smiley, told the Daily Star newspaper: 'Rihanna is flaunting stolen property, in this case feathers possibly plucked right off their rightful owners' backs.'
Oh dear. Smiley continued: 'She has shown little regard for foxes, cows and reptiles, now she's adding birds to the list of species exploited for her dubious looks. Feathers are often ripped off chickens, geese, ostriches and emus in live plucking. This can result in gaping wounds that are sewn up with a needle and thread without anaesthetic.'
Smiley also mentioned Rihanna's own brush with violence, when she was attacked by then-boyfriend and fellow pop star, Chris Brown, in an altercation in 2009.
She said: 'We keep hoping that Rihanna, a victim of violence herself, will learn to open her heart and start empathising with the suffering of others. That includes the animals who are beaten, gassed, electrocuted and poisoned to be turned into fashion accessories.'
But what do YOU think? Do you agree with PETA and think wearing feathered clothes is cruel? Tell us in the comments box below.
Celebrity news, beauty, fashion advice, and fascinating features, delivered straight to your inbox!