Kate Moss' half-sister makes modelling debut
Charlotte Moss, known as Lottie, has made her modelling debut for her sister's agents Storm Model Management at just 13-years-old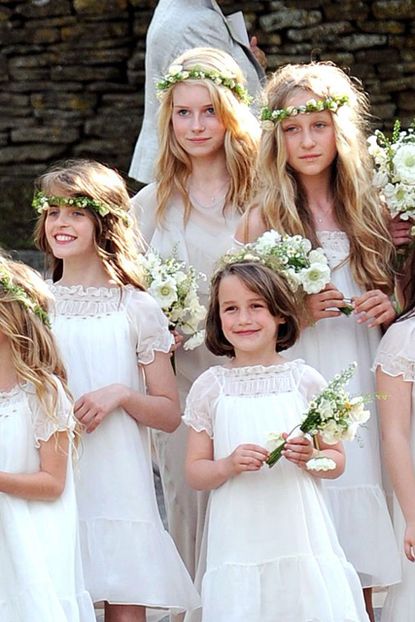 (Image credit: Rex)
Charlotte Moss, known as Lottie, has made her modelling debut for her sister's agents Storm Model Management at just 13-years-old
The half-sister of Kate Moss, Charlotte - known as Lottie - has made her modelling debut for her famous siblings's agent Storm Model Management, at just 13 years old. KATE MOSS STYLE HIGHS AND LOWS
Lottie Moss first caught our attention back in July when she was a bridesmaid at half-sister Kate Moss' wedding, and it didn't take long for model agencies to come knocking at her door.
The Mosses must have good modeling genes, as Lottie has already had her first test shoot organised by her sister's agents, one year younger than Kate, when she was first spotted.
The shoot, which were shot last month to see how Lottie got on, was arranged by Sarah Doukas – the agent who famously discovered Kate in New York back in 1991.
Photographed by Andrea Carter-Bowman, rising fashion and celebrity photographer, who recently shot Emma Watson, the snaps capture Lottie's gorgeous doe eyes and striking ethereal look.
With her porcelain skin and high cheekbones we think this could be the start of an incredible modelling career.
But at just 13 her family feel she is still too young to working full time, with her father, Peter Moss, telling the Daily Mail, 'It's early days really.
Storm, Kate's agent, were keen to give Lottie a test shoot, as a trial. 'It will be very strictly controlled because she's not 14 yet so it's very early days,' a spokesman said.
Lottie's mother Inger, added: 'She's too young [to model professionally]. When she is old enough it will be her decision.'
Other famous young models include Elle Fanning, also 13, who was snapped up by designer Marc Jacobs, and actress Hailee Steinfeld,14, the face of this season's Miu Miu campaign.
Lottie's future now rests with Storm Management who will decide how to move her career forward when she turns 14 in January.
SEE KATE MOSS' FIRST EVER MODELLING SHOTS
Celebrity news, beauty, fashion advice, and fascinating features, delivered straight to your inbox!