The Balmain show brings all the glamour at Paris Fashion Week SS18
Monochrome, medallions, giant ruffles - and Pamela Anderson. Read on to find out all the latest on the #balmainia at Olivier Rousteng's Balmain SS18 Paris Fashion Week show...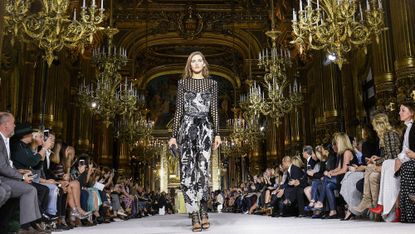 (Image credit: Getty Images)
Monochrome, medallions, giant ruffles - and Pamela Anderson. Read on to find out all the latest on the #balmainia at Olivier Rousteng's Balmain SS18 Paris Fashion Week show...
Balmain's Olivier Rousteng is the anti-normcore. Not for him the pared-down minimalism and arty collabs beloved of so many other brands. Nope, he's into hyper glamour. Always has been, always will be. He's bringing his brand of glamour to the masses with his L'Oreal x Balmain collaboration (due to be celebrated with a party in Paris tonight), and the Balmain show stands out like a disco-ball beacon on the Paris Fashion Week schedule.
When everyone else is showing hoodies, androgyny and Comme-tribute tailoring, it sometimes feels out of sync (of course, Rousteng's 7m Instagram followers and A-list pals Kim Kardashian et al would say otherwise). But following on from Donatella Versace's supermodel reunion in Milan and the glitz and fizz of Saint Laurent's glam-fest at the Eiffel Tower on Tuesday, the Balmain SS18 show felt right on the money. Just like the giant gold medallion hanging over the entrance. Here are some of the glitzy details...
The Gilded Venue
If you're after baroque opulence (and when isn't Rousteng?) you can't get much more fabulous than the Palais Garnier opera house. Sweeping marble staircases, ceilings heavy with painted cherubs and glittering chandeliers...you get the picture.
The show notes took the form of a letter from Rousteng to his younger self and had this to say on his choice of venue: 'This sense of awe that you're feeling, as you walk into Garnier's dazzling opera house, won't be just a one-time thing. Of course, the intensity will diminish over the years, but I can tell you – twenty-two years after this moment – that this same émerveillement will hit you each and every time you return.'
Well, yes, Olivier, us too.
Medallion Mania
Balmain made a move into bags and (relatively) affordable jewellery with the launch of a whole new accessories collection earlier this year, and a giant version of the signature gold medallion hung like a blingy coat of arms over the entrance to the show. Accessories were front and centre on the runway too, in the form of boxy leather bags swinging with tassels, and block-heeled perspex boots.
The Girls
Rousteng loves an all-star line-up, and today the glamazons of the #balmainarmy were out in force. The model agents of Paris had clearly been sweating over their schedules to get every single hot girl on the face of the modelling planet to the Palais Garnier in time for hair and makeup.
There were several star turns - Natalia Vodianova, Joan Smalls, Alessandra Ambrosio and Karolina Kurkova - not to mention his usual favourites Natasha Poly and Jourdan Dunn.
Basically, supermodel casting is back with a bang - this is one 1990s-throwback trend we're very much enjoying.
The Clothes - It's All About Monochrome And Ruffles
At Dior earlier in the week, Sixties-style black and white made an appearance. But the Balmain take on monochrome was a whole lot more Belle du Jour. Natalia Vodianova opened the show in a shiny black patent jumpsuit with gold chain straps over a cut-away white blouse, and Natasha Poly followed, in a peek-a-boo plastic trench over a white Balmain bodysuit.
There were stripes, checks, fringing and lots of shiny wet-look PVC. Giant sculptural ruffles were everywhere, on shoulders, over hips and exploding at the bottom of figure-hugging skirts. Elsewhere, the Rousteng signatures of crystal beading, big shoulders and tribal feathered trims all made an appearance.
The Front Row
Sadly for the throngs of paps out front (and us), there was a distinct lack of Kardashian action, but we got our gawp value by staring at Pamela Anderson (tiny in zip-up suede thigh boots and a bouffant beehive) Claudia Schiffer and Olivia Palermo instead.
Stay tuned for more Paris Fashion Week fun...
Celebrity news, beauty, fashion advice, and fascinating features, delivered straight to your inbox!