William and Kate to go head to head in boat race
The Duke and Duchess of Cambridge will do battle when they take part in the event during their visit to Canada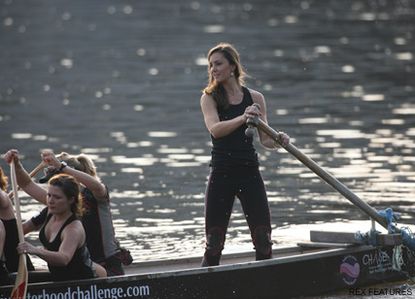 The Duke and Duchess of Cambridge will do battle when they take part in the event during their visit to Canada
We're all familiar with the iconic images of Kate Middleton training for a boat race in 2007, which are even rumoured to have caught the eye of Prince William during their split and played a part in the couple's reconciliation.
And now Miss Middleton is set to step back in to a boat once more, as she goes head to head with William during their US tour.
The couple's private secretary has confirmed the pair will team up with dragon boat racers during the Canadian leg of their trip, and do battle during the 'fun' sporting event.
WILLIAM AND KATE: RELATIONSHIP IN PICS
Jamie Lowther-Pinkerton, who will accompany the royal couple during their tour yesterday revealed the Duke and Duchess will 'team up with Dragonboat racers, taking a boat each – although I hasten to add, not themselves paddling, though probably steering – and they will race across the lake to the opposite bank where crowds will be gathered.'
'After congratulating the winning team, the couple will be welcomed by First Nations people with a traditional 'smudging' ceremony.'
It's thought they will then head over to the beach, where 'young people will be engaged in a range of beach sports, and the couple will start one of the games and present prizes to the winners of various competitions,'
It's thought Kate and William are very much looking forward to their 'hands on' American tour, during which they'll be accompanied by just seven members of staff.
'The royal couple are delighted that Canada will be their first tour together and the Canadians have put together an extremely welcoming and well-balanced programme of meaningful engagements, mixed with fun and lots of opportunities to get to know Canada and Canadians better,' their spokesman added.
Are you looking forward to the Duke and Duchess's first royal tour? Let us know your thoughts in the comments box below.
WILLIAM AND KATE: RELATIONSHIP IN PICS
Celebrity news, beauty, fashion advice, and fascinating features, delivered straight to your inbox!