Victoria Beckham: I'm not miserable, I'm exhausted
As the designer launches her latest line at Harvey Nichols, she explains why she's not been looking her 'best' recently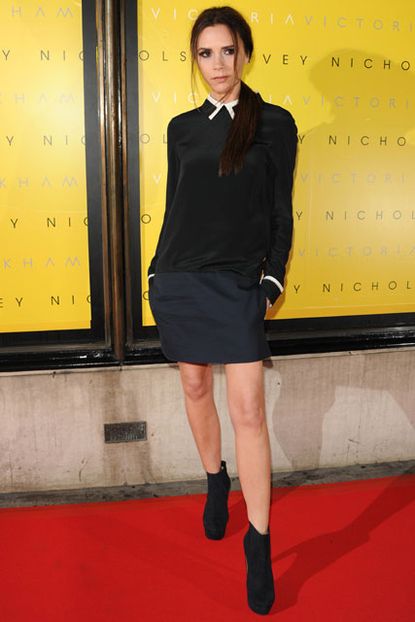 (Image credit: Rex Features)
As the designer launches her latest line at Harvey Nichols, she explains why she's not been looking her 'best' recently
As Victoria Beckham launches her latest line, Victoria, by Victoria Beckham, at Harvey Nichols, she hits out at critics who've criticised her appearance lately.
The 37-year-old has been accused of looking gaunt and moody by some members of the press but the designer has explained that she's simply exhausted by being a busy working mum-of-four.
VICTORIA, BY VICTORIA BECKHAM S/S 2012
She said: 'Look, if people want to say I'm f***ing miserable then so be it. I'm really not. I have a lot on my plate. I'm not going to lie about it, I'm tired. I'm really tired but I'm also very happy with my life.
She told the Sunday Mirror: 'I'm basically just like any woman who's working and has lots of children - it's tough. I'm not getting much sleep at all. Harper's not sleeping that great, and I've been taking Skype business calls throughout the night too because of the collections.
'I'm up with the baby as all mums are, and I wouldn't have it any other way. There's not a team of people doing it for me. And then people want to say I look crap. Well, I'm a working mum, so give me a break. I'm tired. You can't look your best all the time.'
Victoria continued: 'The thing is, I get the game I'm in. People can read the s**t about me and believe what they want and I get it. But I don't want to focus on that side of things. The glass is always half full for me. You can't get hung up on what other people say.'
We're not surprised that VB is feeling the strain, what with constantly jetting between LA, London and New York with a new baby in tow. We need to have a lie down just thinking about it!
Celebrity news, beauty, fashion advice, and fascinating features, delivered straight to your inbox!