Robert Pattinson and Kristen Stewart laugh and joke during first TV interview
Robert Pattinson and Kristen Stewart seemed totally comfortable with each other during their first public appearance since the Rupert Sanders scandal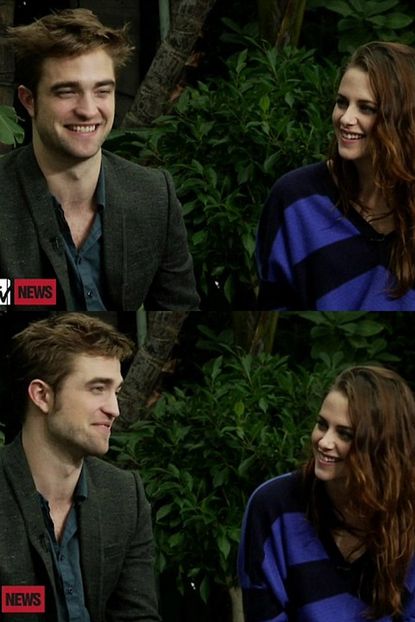 (Image credit: MTV News)
Robert Pattinson and Kristen Stewart seemed totally comfortable with each other during their first public appearance since the Rupert Sanders scandal
Robert Pattinson and Kristen Stewart seemed totally comfortable with each other during their first, and highly anticipated, public appearance since the Rupert Sanders affair/scandal/debacle.
The Twilight stars appeared with co-star Taylor Lautner on MTV News to promote the upcoming Breaking Dawn Part 2.
Looking casual yet stylish in a black and blue striped jumper and jeans, Kristen sat in between her two leading men, who play Edward Cullen and Jacob Black in the hugely successful vampire-based movie franchise.
Any personal questions were strictly off limits to save Rob and Kristen any awkwardness - not that there seemed to be even a hint of hostility between the real-life couple.
KRISTEN STEWART LEARNS HOW TO BE A VAMPIRE IN NEW BREAKING DAWN CLIP
Talking about the press trail for the new Twilight flick, Kristen moaned that she and Rob had been split up to promote the film so far.
'For the last few press junkets, they've been separating everyone which is silly. I think because we love hanging out,' she said.
The only remotely personal subject brought up during the interview was the Rob and Kristen's choice of Halloween costume the night before.
KRISTEN: THE MOST INTERESTING THINGS HAPPEN AFTER MISTAKES
Talking about Kristen's pink wig and Rob's scary mask that they wore to a Halloween bash, Kristen said: 'Oh yes, it looks awesome,' about the photo of herself in a pink bobbed wig and sunglasses. 'That's not fair. That's actually a really weird [photo].'
While Rob said: 'That's not me,' he joked, adding: 'I chose someone who is just genuinely terrifying. It was a $3 mask from a 7-Eleven.'
Watch our exclusive video with Kellan Lutz and Nikki Reed below.
ROBERT PATTINSON AND KRISTEN STEWART MAKE FIRST TV APPEARANCE SINCE AFFAIR
ROBERT PATTINSON SIGNS AS FACE OF DIOR'S FRAGRANCE
Celebrity news, beauty, fashion advice, and fascinating features, delivered straight to your inbox!