Kristen Stewart and Robert Pattinson to make first Twilight TV appearance together since affair
Kristen Stewart and Robert Pattinson will join Taylor Lautner in a special interview with MTV News tonight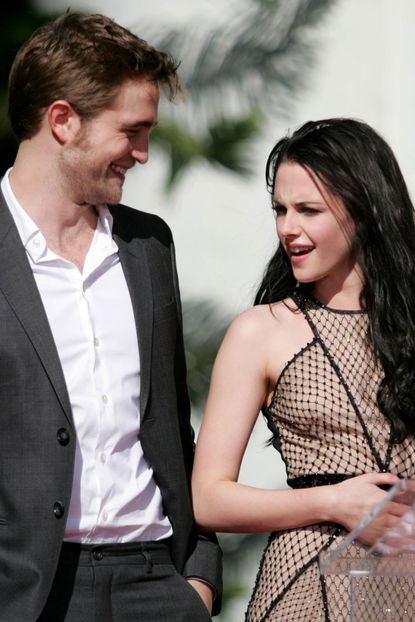 (Image credit: Rex)
Kristen Stewart and Robert Pattinson will join Taylor Lautner in a special interview with MTV News tonight
Kristen Stewart and Robert Pattinson disappointed fans (and the press) when they decided to promote the final film installment of Twilight Breaking Dawn Part 2 separately. But their bid to shun speculation over their off-screen romance has failed as tonight they'll be reunited for their first official engagement together since the cheating scandal.
ROBERT PATTINSON KICKS OFF PROMOTIONAL TOUR
The actors will join their co-star Taylor Lautner for a TV appearance in America, and no doubt all eyes will be on Robert Pattinson and Kristen Stewart's chemistry as the trio are interviewed by MTV News.
Twihards will be able to watch an exclusive clip from Breaking Dawn Part 2 at 8pm on US channel ET before the interview is broadcast on MTV.com.
KRISTEN STEWART AND ROBERT PATTINSON QUOTES ON TWILIGHT
But wait, that isn't the only treat in store for dedicated fans, questions for Rob, Kristen and Taylor from around the world can be submitted via video message, texting and MTV's Twitter account, @MTVNEWS.
It's thought any questions about Kristen and Robert's relationship will be off limits, but that won't stop everyone analyzing how the couple cope.
Will you be staying up to watch Robert Pattinson and Kristen Stewart's Twilight interview? Are you excited to see Breaking Dawn Part 2? Let us know below.
Watch the Breaking Dawn Part 2 featurette below...
TWILIGHT BREAKING DAWN PART 2 PREMIERE PHOTOS
ROBERT PATTINSON HINTS AT TWILIGHT SPIN OFF
ROBERT PATTINSON AND KRISTEN STEWART MOMENTS
Celebrity news, beauty, fashion advice, and fascinating features, delivered straight to your inbox!