Rihanna defends her decision to work with Chris Brown
The singer's fans weren't pleased that she collaborated with the man who assaulted her back in 2009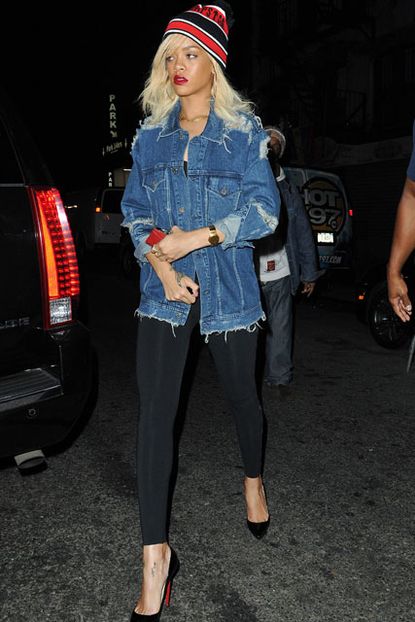 (Image credit: Rex Features)
The singer's fans weren't pleased that she collaborated with the man who assaulted her back in 2009
There was an outcry from her fans when it was revealed that Rihanna was collaborating with ex-boyfriend Chris Brown and now the singer has finally spoken out about the controversial decision.
Given that Brown was found guilty of assaulting the We Found Love singer in 2009 and is still serving probation for the crime, it's no surprise that people were shocked when Rihanna teamed up with him on a remix of her song Birthday Cake, as well as appearing on his track Turn Up the Music.
Speaking to Ryan Seacrest on KIIS-FM in Los Angeles, she explained why she's 'reached out' to her ex. She said: 'I reached out to him about doing Birthday Cake because that's the only person that really... it made sense to do the record.
'Just as a musician - despite everything else - that was going to be the person.'
She added: 'I thought about rappers, and I've done that so many times, and the hottest R&B artist out right now is Chris Brown.
The 24-year-old then went on to talk about her slim figure saying that she's been doing the Five Factor Diet but is now sick of being too thin.
CELEBRITY DIET TIPS
'The Five Factor Diet has gone straight out the window ever since I went on tour. I mean, It's difficult to have any kind of routine when your schedule is that crazy,' she said.
RIHANNA'S DAD: I THOUGHT SHE WAS A LITTLE FAT
'So I really have no idea how I'm continuously losing weight. It's actually pretty annoying, because now I don't have a butt, and I have no boobs. I already had no boobs to start with. So annoying and I'm eating everything!'
Our hearts bleed for you, RiRi!
Celebrity news, beauty, fashion advice, and fascinating features, delivered straight to your inbox!