Rihanna's dad: 'I thought she was a little fat'
The singer's father told her to start working out more - charming!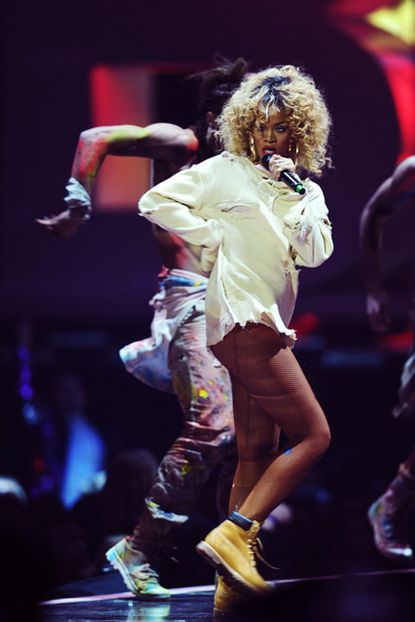 (Image credit: Rex Features)
The singer's father told her to start working out more - charming!
Rihanna's dad has revealed that he ordered her to go on a diet because he thought she was getting too fat.
The cheek of it!
Speaking to Heat magazine, Ronald Fenty, rather too candidly, said: 'I actually thought she was a little fat the last time I saw her.
'But when I saw her at this year's Grammys, I thought she was back to her normal size. I used to joke with her, "Robyn, [Rihanna's first name], you're getting too fat." But I think she's fine.
DIET TIPS AND ADVICE
'I think she looked excellent, as everyone saw, at the Grammys. She's dieting, she's working out.'
RIHANNA'S SIZZLING HOLIDAY SNAPS
If Rihanna is deemed 'fat' by her own father, what hope is there for the rest of us?
The singer's dad, who, until pretty recently, she didn't speak to for two years, also waded in on her relationship with ex-boyfriend Chris Brown, who admitted assaulting her in 2009 and is still serving five years probation.
'Chris is a nice guy and everybody's entitled to make mistakes in their life – God knows how many I've made,' he said.
'She's her own woman now.'
Speaking of Chris Brown, his current girlfriend and Rihanna are thought to be having a feud via several social media sites.
Rihanna, 24, tweeted a bag of rice cakes with gold earrings and black shades, along with the caption, 'Ima make u my bitch.' (sic) People are saying this is a reference to Brown's lady friend, Karrueche Tran, who is half Vietnamese.
Tran then apparently retorted by writing the following on her Facebook page: 'I'm Angeline [sic], you're Jen. C'mon you see where Brad is at.'
Now, now, girls!
What do you think about Rihanna's Dad's comments about her weight? Let us know in the comment box below...
RIHANNA STRIPS TO TEENY WEENY BIKINI ON LOUD TOUR
Celebrity news, beauty, fashion advice, and fascinating features, delivered straight to your inbox!