Queen's goodwill message to Jade Goody
Queen sent message to Jade Goody days before she died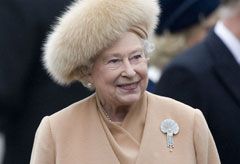 Queen sent message to Jade Goody days before she died
She was sent well wishes from across the globe before she died but Jade Goody's biggest honour was receiving a message of goodwill from the Queen.
The reality TV star received the note shortly before she passed away last month and was read the letter by Jack Tweed's sister, Laura. Sent from the Queen's secretary, it read: 'I have been instructed to convey the Queen's warmest good wishes to Jade at what must be a very difficult time for her and her family.'
In a diary Jade kept in the weeks before she passed away, the 27-year-old wrote: 'Laura had written to her asking for her support because she knows how much I love the Queen. "The Queen!" I said. That was so nice.'
Extracts from the Big Brother star's diary, which appear in OK! magazine, also note how lovingly her husband, Jack, nursed Jade as the cancer spread.
Eleven days before she died, Jade wrote: 'My husband is so lovely to me. He cleans my teeth, he changes my underwear, washes me gently with a flannel.
'The nurse showed him how to lift me gently. I could feel him putting his hands under me so lightly. I feel all bony now, but he didn't hurt me at all.'
The nurse caring for Jade told Tweed, who has just been jailed for 12 weeks for assault of a taxi driver, she had 'never seen a man look after his wife so beautifully.'
Celebrity news, beauty, fashion advice, and fascinating features, delivered straight to your inbox!