Justin Timberlake's Kiss Cam regret
Justin Timberlake jokes with talk show host Jimmy Kimmel about his PDA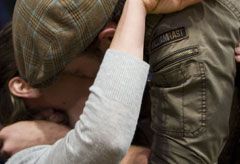 (Image credit: PA Photos)
Justin Timberlake jokes with talk show host Jimmy Kimmel about his PDA
Justin Timberlake has confessed he regrets his brazen PDA with girlfriend Jessica Biel earlier this week.
The star singer dropped in to US chat show Jimmy Kimmel Live on Wednesday night and chatted about his make -ut session with actress girlfriend Jessica Biel at the Lakers game the night before.
Trouser-snake Timberlake said he and girlfriend Biel were not in the habit of displaying their affection in public. Justin joked: 'We're not actually that much of exhibitionists.' But they certainly couldn't keep their hands off each other when the Kiss Me Cam came out.
They gave fellow basketball spectators some serious off-court action when Justin 'mounted' Jessica. It was his bid to outdo fellow A-lister Dustin Hoffman who, according to the former N*Sync star, had planted an 'award-winning' kiss on his wife's lips.
'I was not going to be outdone', Justin told the talk show host. 'So yeah. So I mounted my girlfriend in front of 18,000 people.' After giving the 18,000 basketball fans an eyeful the 'Sexyback' singer reflected: '[It] was one of those moments where I should have made a better decision.'
FOR MORE SEXY JUSTIN TIMBERLAKE PICTURES CLICK HERE
FOR MORE JESSICA BIEL PICTURES CLICK HERE
ARE YOU A TWITTERER? FOLLOW US HERE
Celebrity news, beauty, fashion advice, and fascinating features, delivered straight to your inbox!
Natalia is a health journalist with 14 years experience in the publishing industry. She has worked for a number of well known magazines and websites including Marie Claire, Woman&Home, Top Sante, Boots and The Telegraph. She likes to think she practices what she preaches when it comes to health and fitness. Her athletic prowess began early. A keen fencer for 13 years, she wielded an epée for Olympic Team GB during her teenage years. She likes to think she made sword-fighting cool before Game of Thrones came along! While working on her sporting performance with the team, she also participated in a lot of nutrition and psychology training, When it comes to time off, you'll most likely find her up a mountain somewhere. It seems holidays have become a time for climbing several thousand feet, rather than chilling out. She's now hiked eight of the major mountain ranges across four continents – including the Appalachians, the Smokies, the Sierra Nevadas (she spent her honeymoon hiking to the top of Half Dome), as well as hitting the summits of Snowdon, Pen-Y-Fan (Brecon Beacons), Table Mountain in South Africa, the Blue Mountains in Australia and the Atlas Mountains in Morocco. She's also passionate about all things health, particularly vaccinations, and will happily jump on her soap box at any given opportunity to talk about their benefits to anyone who will listen!