Downton Abbey's Dame Maggie Smith rushed to hospital with chest pains
The legendary actress complained of severe chest pains on Friday but has released a statement saying she is 'fine and well'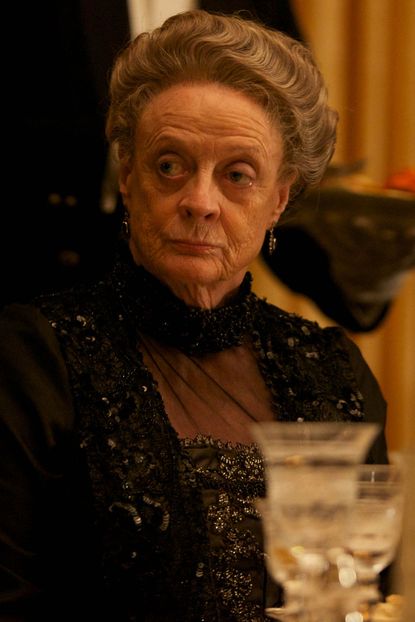 (Image credit: ITV pictures)
The legendary actress complained of severe chest pains on Friday but has released a statement saying she is 'fine and well'
Downton Abbey's season finale may have been relatively drama free last night but off-screen there was certainly cause for concern. Dame Maggie Smith who plays the Dowager, Violet Crawley, in the hit show allegedly complained she was suffering with chest pains on Friday.
DOWNTON ABBEY'S ED SPELEERS (JIMMY KENT) ON SERIES FOUR RETURN
The Sunday Mirror report Dame Maggie Smith was taken to hospital after complaining of severe pain and was seen by the cardiac unit at Wellington hospital, London. After undergoing several tests, the actress was discharged later that day.
A source told the newspaper: 'It was extremely distressing for her but she did the right thing and made sure she got to hospital as soon as possible.'
Following the reports, the award-winning actress has released a statement dismissing the claims. Her spokerwoman said: 'She is fine and well and at home.'
It's believed the reports of being 'rushed to hospital' emerged after she visited her doctor for a routine procedure.
The 77-year-old had previously suffered from breast cancer, and it was later revealed in 2009 that she'd considered quitting acting after going through chemotherapy and radiotherapy.
DOWNTON ABBEY STAR DAN STEVENS MAKES BROADWAY DEBUT
This recent health scare could put Maggie's role in Downton Abbey in jeopardy as the source added she will 'have to think very carefully now about whether she stays in the show.
'Her health always comes first and I am sure she will take advice from the experts.'
The series three finale did not hint at any cast members' exits with each storyline being wrapped up nicely, leading into everyone's, including (we hope) Dame Maggie Smith, return for both the Christmas special and series four.
Watch our interview with Downton Abbey star Ed Speleers who plays Jimmy Kent...
What did you think of the Downton Abbey's series three finale? Let us know below.
DOWNTON ABBEY CAUSES SOARING SALES FOR LINGERIE BRAND DOWNTON ABBEY SERIES THREE PICTURES
Celebrity news, beauty, fashion advice, and fascinating features, delivered straight to your inbox!