Broody Kate Middleton reveals baby hopes
The Duchess accidentally let slip that she and William could be starting a family soon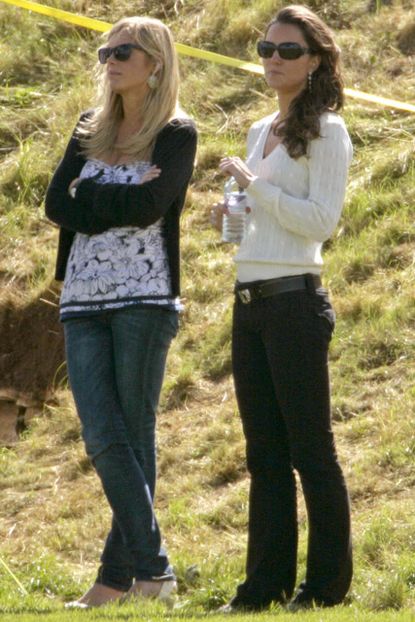 (Image credit: Rex Features)
The Duchess accidentally let slip that she and William could be starting a family soon
The Duchess of Cambridge dropped the biggest hint that we could soon be hearing the pitter patter of tiny royal footsteps over the weekend, when she spoke of her hopes of starting a family.
SEE KATE & WILLIAM'S CANADIAN TOUR IN PICTURES!
The newlywed royal couple are midway through their first official overseas tripas a married couple - a 14,000 mile journey across North America and Canada.
Despite a whirlwind of social and official engagements, Kate and William have still found plenty of time to get out and about and meet hoards of well-wishers, gathered in the hope of catching a glimpse of the royal couple.
And broody Miss Middleton just couldn't help speaking of hopes to start a family one day – the greatest indication yet a tiny new royal could soon be on the way.
Kate's comments came as she bent to receive a posy of flowers from two-year-old Raffaela Cheater – daughter of a British ex-pat during a walkabout in Quebec over the weekend.
'What a beautiful daughter you have,' the smiling Duchess told Brit Mr Cheater, who then wished her well in her own efforts to start a family.
'Yes, I hope to,' Kate replied.
It's the first time Kate has publicly spoken of her desire to start a family, although William revealed it was their wish when they got engaged last year.
If the couple follow royal example, William and Kate could be expecting before the end of the year.
William himself was born just 11 months after his Prince Charles and Diana married in 1981, while the Queen gave birth to Prince Charles just a year after her royal wedding to Prince Phillip.
Would you like to see William and Kate start a family? Let us know your thoughts in the comments box below.
KATE & WILLIAM'S CANADIAN TOUR IN PICS!
KATE MIDDLETON'S ROYAL STYLE TRANSFORMATION
Celebrity news, beauty, fashion advice, and fascinating features, delivered straight to your inbox!