Anna Nicole Smith's life to be made into an opera
The life of Playboy model Anna Nicole Smith was certainly akin to a soap opera, but an actual opera? The Royal Opera House seem to think so with their latest production, Anna Nicole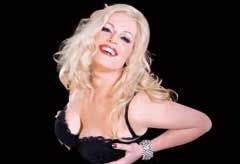 The life of Playboy model Anna Nicole Smith was certainly akin to a soap opera, but an actual opera? The Royal Opera House seem to think so with their latest production, Anna Nicole
The life of Playboy model Anna Nicole Smith was certainly akin to a soap opera, but an actual opera? The Royal Opera House seem to think so with their latest production, Anna Nicole…
READ ALL OF TODAY'S TOP NEWS STORIES
The story of Anna Nicole Smith, the model who married a billionaire 63 years her senior and died of an overdose aged 39 amid a media frenzy, has been adapted by Richard Thomas, no stranger to pushing boundaries and tackling celebrity culture, having created the infamous Jerry Springer: The Opera.
Acclaimed Dutch soprano Eva-Maria Westbroek who plays the tragic reality TV star thinks that Anna Nicole is perfect operatic material.
'She was very innocent in a strange way which makes her downfall all the more painful to watch,' she tells us. 'For some reason people are always intrigued by other peoples' misery.'
Anna Nicole is at the Royal Opera House, Covent Garden, London, WC2 (020 7304 4000, roh.org.uk), 17 Feb to 4 March.
Celebrity news, beauty, fashion advice, and fascinating features, delivered straight to your inbox!