Dirty Bones, Kingly Court, Soho
Deputy editor Miranda McMinn samples a Soho brunch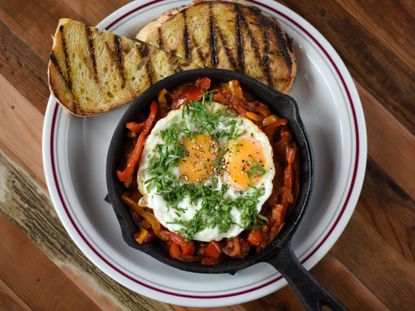 Deputy editor Miranda McMinn samples a Soho brunch
Brunch these days is as much of a weekend institution as getting wasted on a Friday night (come on, we've all been there). And Dirty Bones Soho offers a brunch that's a good way to get over the hangover that's bound to follow as surely as night follows day. The décor in this second floor eaterie, tucked away off Carnaby Street, is hipster chic – a mash-up of vintage lampshades, banquettes with reclaimed wood tables and a hint of Moorish/Spanish flavour. The menu – which includes a £15 "bottomless" prosecco offering that's not so much hair of the dog as the whole damn pooch – is similarly left field. No Full English here – this is a strictly beef-based situation (plus avocados with everything for hefty Instagramming). The comfort food includes the Benedict Burger – a 6oz steak burger with treacle bacon, poached egg and hollandaise sauce in a brioche bun. Greedy gutses or the very hungover might want to add another patty – thankfully this is an option. Steak and eggs also hit the spot. Smashed avocadoes with poached eggs on sourdough were another offering worthy of Shoreditch, along with sides of frieds and mac & cheese. The banana Toblerone-Tella waffles brought together caramelized banana, Toblerone-tella, blueberry jam, peanut butter gelato and crushed nuts on a freshly baked waffle in a glorious union. Er, yum. Nothing so predictable as a cappuccino here, either – instead it's either espresso or "bottomless" coffee, with refills handed out like an American diner. Along with 'old skool tunes and retro games' this is dude food that's certain to cure all – or at least get you over the hump until it's time to start all over again.
http://dirty-bones.com/
Top Floor, Kingly Court, Carnaby Street, Soho, W1B 5PW
Celebrity news, beauty, fashion advice, and fascinating features, delivered straight to your inbox!