9 Ways To Celebrate Chinese New Year In Style
WARNING: This is officially an all-you-can-eat buffet free zone.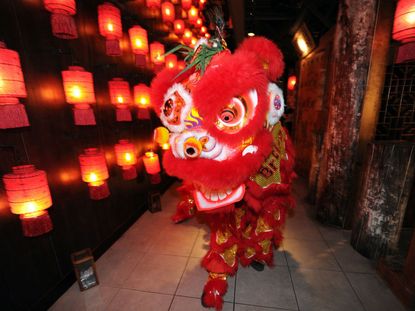 WARNING: This is officially an all-you-can-eat buffet free zone.
Want old school tradition?
Mr Chow
With its European-style service and luxe decor, it's no wonder Mr Chow was dubbed the world's original designer restaurant when it opened in Knightsbridge in the 1960s. Glam points aside, what can we expect from the menu? Well, this one's the master of hand-pulled Beijing noodles so make sure you order a side of them to go with your Lamb Fillet with Shimeji Mushrooms. It is the year of the sheep, after all.
Fancy some cocktails?
Cocktail Trading Co
You can rely on the capital's most experimental new bar on the block (it opened recently in the basement of Soho's Central & Co) to have concocted a cocktail to see in CNY in serious style. Jim Bean, ginger and plum infusion, yuzu juice, matcha tea and a garnish of edible sweet crispy bacon noodles… who needs a banquet for two?
www.thecocktailtradingco.co.uk
Looking for the next big thing?
Bo Drake
It may be walking distance from London's China Town, but the new kid on the block definitely stands out from the crowd. Swap your usual salt and pepper ribs for the Rib Tips in Bourbon Sauce and order Bo Ssam with Smoked Pulled Pork, Kimchi & Ssamjang (served with or without Scottish Oysters) – this is Chinese spearheaded by the Korean/Mexican BBQ street food movement. Mind blown.
Want really super Sichuan?
Chinese Cricket Club
The chic-as Chinese Cricket Club in Blackfriars has not one but two contemporary four-course menus especially for the festivities, and you don't even have to watch cricket. Pan-fried lamb dumplings followed by braised rack of lamb with Chinese dates? Told you they were going for it.
Looking for a room with a view?
Matou
Can't decide between spring rolls or summer rolls? You're not fussy, you just want a bit of fusion. Who doesn't? We love Matou, by the river in Liverpool for a menu that's faithful to Thailand, Malaysia and China all at once.
Satisfying a sweet tooth?
Yauatcha
Forget dim sum (and that is really hard because it is so very good here) and make way for the macaroons. Yauatcha have created two desserts in honour of CNY – a caramelized sheep's milk macaroon coated with oats and filled with dulce de leche and a 'petit gateau' – a sheep's yoghurt bavarois centred with lemon curd on a bed of lemon sponge and pandan buttercream. That's the long way of describing them. In one word, they're delicious.
All about small plates?
HKK
Why order a plate of chow mein when you can embark on 'A Culinary Journey Through China?' That's the thinking behind HKK's festive ten-course tasting menu, and with wagyu beef in merlot and jasmine tea-smoked poussin in the mix, you will never want it to end (even though you'll probably feel quite full).
After dizzying great heights?
Hutong
As if toasting a glass of fizz to the view from The Shard didn't feel like celebration enough, High rise haute Chinese Hutong is pulling out all the stops with its 'Double Happiness' menu, complete with traditional lion dance and candy box. Just watch those E numbers. Not a good look at the bar.
Spice girl on a mission?
My Sichuan
Being housed in a minimally decorated dining room in The Old School Building (a stone's throw away from Oxford Train Station) is a brilliant contrast to the ridiculously fiery dishes on My Sichuan's menu. They should probably come with a health warning but if you want it really hot this CNY, you've come to the right place.
Celebrity news, beauty, fashion advice, and fascinating features, delivered straight to your inbox!