8 Ways To Celebrate Halloween That Are ACTUALLY Awesome
Forget sitting at home dodging trick-or-treaters, make like fancy dress queen Heidi Klum and go all out on the 31st…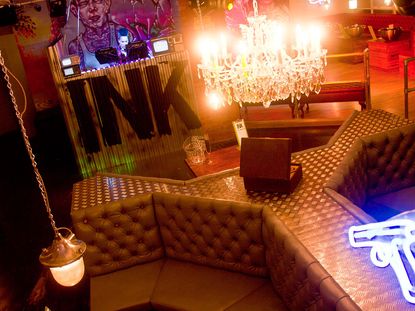 Forget sitting at home dodging trick-or-treaters, make like fancy dress queen Heidi Klum and go all out on the 31st…
1. Go green (like a monster) Ever wondered what the Chelsea set get up to on All Hallows' Eve? Get yourself down to HALLOGREEN (geddit?), the party at Professor Green's central London club INK, hosted by the man himself and wife Millie Mackintosh. Dubbed 'the spookiest of all parties.' If Spenny turns up in fancy dress, it may well be.
2. Have a Thriller night It's murder on the dancefloor when our favourite 1980s brekkie joint The Breakfast Club in Spitalfields joins forces with FRAME Shoreditch for a bigger dance-off than you probably ever imagined might take place on 1 November at 7:30pm. Do Jacko proud.
3. Go scary skating If ice skating wasn't scary enough (anyone else broken their knee? Just me then) the Natural History Museum decide to have a Halloween launch party on Wednesday 30 October. Friday 13th style masks + slippery ice = spooky shiz, man.
4. Do afternoon tea in the dark If anyone was going to trailblaze the trend for nighttime afternoon tea, it had to be the ever-eclectic drinking/dining palace, Sketch. Luxury tea, Jing, is (spookily) transformed into a cocktail with the help of Jim Beam and Rooibos-infused syrup; and you'll soon see why it's definitely not suitable for ladies who lunch.
5. Channel the Day of the Dead With music and dancing until 3am, it would be rude not to celebrate the 'Day of the Dead' at London's hottest Peruvian restaurant, Coya.
6. Watch Halloween (obvs) By all means pop yourself on the sofa with a bottle of red and a bucket of salt and sweet popcorn. Or, you could go down to The Garrison on so-hot-right-now Bermondsey Street, watch the movie, eat some toffee apples and do some pumpkin carving. We know what we'd rather do… Tickets are £10.
7. Play ping pong Fancy dress ping pong? There's a first time for everything. Ping pong restaurant Ping will be lined with pig heads and other creepy props and you can even get your make-up done. If you're that competitive…
8. Walk around a cemetery Paradise By Way Of Kensal Green? Nightmare on Kensal Green, more like. The hip West London gastro pub will host a tour of the cemetery next door (think original coffins dating back to 1800) and scare the wits out of us in the process.
London Grammar: 15 things you need to know about the band of the moment
MC Meets: Gabriela Moncada talks tequila and Day of the Dead Festival
The one moment that sums up Janis Joplin's infinite coolness
Celebrity news, beauty, fashion advice, and fascinating features, delivered straight to your inbox!