The best celebrity Halloween costumes we've seen so far this year
Guess who? A look at some spooky moments from our favourite stars at Halloween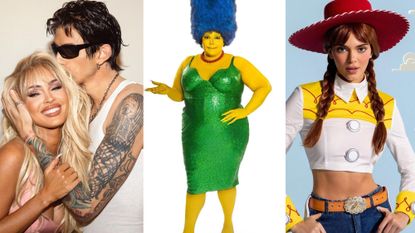 (Image credit: Instagram: @meganfox, @lizzo, @kendalljenner)
October 31st is here and, uh, we still don't have a costume. Here are some celebrity Halloween costume ideas to get you started...
Trick or treating is back on the cards this year, and if you're unsure what or who to dress up as, look no further than your favourite celebrity Halloween costumes for inspiration.
Whilst it's tempting to just throw some fake blood over a Victorian-looking dress, some A-listers go above and beyond every year to come up with genius ideas.
One of the best ones comes courtesy of Kim Kardashian, who in 2019 won at everything by recreating Elle Wood's Harvard University admissions video. To be fair the whole Kardashian-Jenner clan always comes up trumps, and of course Heidi Klum always pulls off a showstopper, getting a whole team of makeup artists to create her looks, which in the past have included aliens, old ladies and Jessica Rabbit.
There are a few celebrities who have gone above and beyond to tickle our funny bones, with creative Halloween costumes that are a spin on the regular sexy-anything. Kerry Washington dressed as Lionel Richie this year, while Megan Fox and Machine Gun Kelly made a very convincing Pamela Anderson and Tommy Lee.
We've put together a gallery of the best celebrity Halloween costumes below, but if you need a dash more inspiration then check out our favourite Halloween makeup ideas and Halloween makeup tutorials.
Best celebrity Halloween costumes of 2022:
Kim Kardashian dressed as Mystique:
Lizzo dressed as Marge Simpson:
Megan Fox and Machine Gun Kelly as Pamela Anderson and Tommy Lee:
Kendall Jenner as Toy Story's Jessie:
Kerry Washington as Lionel Richie:
Hailey Bieber as model from YSL haute couture runway 1999:
Keke Palmer as Rapunzel:
Cindy Crawford and Rande Gerber:
Lori Harvey as Beyonce:
Lili Reinhart, Madelaine Petsch and Camila Mendes as the cast of Hocus Pocus:
Rebel Wilson and Carly Steel as Barbies:
Henry Golding and Liv Lo Golding as Top Gun:
More of the best celebrity halloween costumes from previous years:
Maya Jama dressed as Medusa
Lisa Rinna dressed as JLo in the iconic green Versace dress at the 2000 Grammy Awards.
Jourdan Dunn dressed as Freddie Krueger
Nina Dobrev dressed as Billie Eilish
Lottie Moss dressed as Patrick Bateman from American Psycho.
Molly Sims dressed as I Dream Of Jeannie
Maura Higgins dressed as Julia Roberts in Pretty Woman
Judy Greer dressed as Diane Keaton in Annie Hall
Gabrielle Union dressed as her Bring It On character
Princess Maria-Olympia of Greece and Denmark and model Ella Richards dressed as the twins in the Shining.
Paris Hilton dressed as a nurse.
Demi Lovato as Marie Antoinette
Khloe Kardashian as Cruella DeVil
And family as Cruella DeVil
Kate Beckinsale and Jonathan Voluck as Audrey Hepburn and Elton John.
Martha Hunt and Elsa Hosk dressed as Milla Jovovitch in The Fifth Element and Natalie Portman's character in Closer.
Jessica Biel and Justin Timberlake
Kendall Jenner dressed as a Fembot
Kylie Jenner dressed as Ariel
Lupita Nyong'o dressed as Dionne from Clueless
Paris Hilton
Heidi Klum dressed as Fiona from Shrek
The Weeknd and Bella Hadid
Winnie Harlow
Nicole Scherzinger dressed as Cleopatra, 2017
Cardi B dressed as Cruella De Vil, 2017
Heidi Klum as a werewolf from Michael Jackson's Thriller video, 2017
Kourtney Kardashian as Michael Jackson and Kim as Marilyn Monroe, 2017
Kim Kardashian as Selena, 2017
Amal Clooney and Cindy Crawford as Disco queens, 2017
Joanna Krupa as Sandy from Grease, 2017
Ellie Goulding as Dolly Parton, 2017
Karlie Kloss as Marilyn Monroe, 2017
Kim Kardashian as Cher, 2017
Presley Walker Gerber and Kaia Jordan Gerber as 70s models, 2017
Jessica Alba as Eddie from Ab Fab