It's one of the best workouts for boosting muscle and metabolism - so, what exactly is strength training?
Plus, learn all about the mental and physical benefits.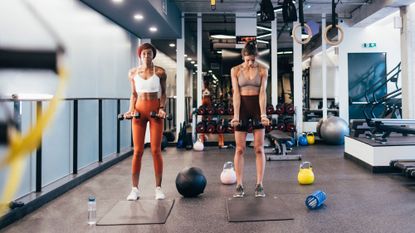 (Image credit: Getty Images)
By now, you'll likely have heard about how great strength training is for your muscles, bones, and mental wellbeing. The workout has been growing in popularity this year, partly thanks to the slew of celebrities crediting it as a staple in their routines. But, with the workout hotter than ever and a bona fide trending workout of the year, you might be wondering: what is strength training?
Victoria Beckham herself has spoken about her switch from a cardio-based fitness routine to embracing weight training, with Adele, Beyonce, Emma Stone, Alicia Vikander and Brie Larson also among the numerous famous faces who reportedly lift weights regularly, too.
In recent years, there's also been the growing momentum of the #strongnotskinny hashtag where people share their weight training on social media. What started out as a simple hashtag has grown into a movement and a bid to focus "healthy living" on building a strong body for life, rather than a restrictive goal of weight loss.
But don't just take our - and the celebs - word for it. Regularly exercising with weights is linked to a lower risk of early death, according to the largest study of its kind published last year in the British Journal of Sports Medicine. It's also been linked with having protective effects against cognitive decline and dementia, according to a study published in The Journal of Nutrition, Health and Aging.
Still overwhelmed by the jargon and buzzwords? Below, top personal trainers share what strength training is, the main benefits, plus how you can do it at home, plus two women detail how incorporating strength training into their workouts has changed their lives. Don't miss our guides to strength training for beginners, low impact strength training, and how much weight you should start lifting at the gym, while you're on the subject.
What is strength training? Your guide
A simple explanation of strength training
In its most basic format, strength training is simply any workout that involves building up your muscle strength, be that via bodyweight exercises - think push ups or pull ups - or with weights, via kettlebell exercises or dumbbell exercises, explains Anya Lahiri, master trainer at Barry's UK. "The aim is to challenge your muscles with increasing resistance so they have to work harder and eventually fatigue," she adds.
You can also build your strength with resistance band exercises, as these add tension and resistance.
Strength training works your muscles by forcing them to contract against outside resistance, in turn and over time strengthening said muscle. "Strength training aims to build up muscular strength by using weights or working against resistance," continues Sophie Bankes, a personal trainer and founder of Stable Fit.
What are the benefits of strength training?
Lahiri says there's a whole host of strength training benefits, which span:
Increasing lean muscle mass
Increasing metabolism
Preventing injury by strengthening joints, muscles, ligaments and tendons
Improving bone density.
The latter is especially important for women as they approach menopause, highlights Bankes. "The stronger your bones the lower the chances are of developing osteopenia, which in some cases can lead to osteoporosis," she details.
So, how does this translate to your day-to-day? "By incorporating strength training into your week, not only will your muscles get stronger, but your bones, ligaments and tendons will also increase in strength," Bankes adds.
Not just that, though - the trainer points out that the main benefit she's seen in clients is a boost in confidence. "The feeling of being fit and strong is so powerful and can overflow into all areas of life, not just the gym," she explains.
How to get into strength training
Both Bankes and Lahiri advise booking into a strength training class or scheduling a session with a qualified trainer, where someone who knows what they're doing can keep an eye on your technique. "Your form is the most important thing to pay attention to," stresses Lahiri. "I would always advise a class or training with a qualified professional to show you the ropes and help you perfect your technique before you fly solo so you don't get injured."
That said, there are also plenty of apps and online tutorials now available - here at MC UK, we're big fans of the FIIT app, where they have hundreds of workouts from top industry professionals at the click of a button and detailed tutorials showing you how to correct your form for each move.
Keen to save money? Strength training is one of the easiest home workouts you can do. All you need is a mat, a good sports bra, and half an hour or so to rotate between traditional strength training moves such as:
Squats
Deadlift
Rows
Lunges
Push ups
Dips
Glute bridges
Planks.
Starting out can be intimidating but Bankes has some handy tips to make it go smoothly. Her advice? Join a small group class to begin with to ensure you get some good interaction with the trainer. Taking a friend along with you can also help ease any gym anxiety and is also a great way to catch up, she adds.
So, can anyone try strength training? "The beauty of strength training is that it can be tailored to anyone," confirms Lahiri. "It is however always best to consult with your GP before beginning any new exercise regime if you have any contraindications, are newly pregnant or have any injuries."
"Strength training changed my perception of health and body image. I love feeling strong"
Amy Gandhi, 26, is a tech recruiter from London who's been strength training consistently for the last four years - and loves how strong and capable it makes her feel.
"I first started strength training when I was 16, but it's only in the last four years that I've been consistent with it. I wanted to build some muscle, but my motivation was mostly to do with performance and mental wellbeing."
"As a young girl, I struggled with an eating disorder. I felt weak and tired all the time. That said, my family have always loved going to the gym, so one day I decided to join them. I've never looked back. Strength training changed my perception of health and body image. I love feeling strong - knowing that my body can move and lift heavy weights makes me feel more capable in all aspects of my life. It's both a physical and mental boost for me."
"I'm a sprinter so my weight sessions are quite specific - most of them hit most parts of my body (with some focused on upper body, and some focused on lower body). I tend to have a number of compound movements, such as squats or cleans, followed by some conditioning. I'm usually in the gym four times a week with other training around this. My sister, Ria Gandhi, is a personal trainer, so she's pieced together a programme for more efficient training."
"There is always the preconceived idea, as a woman, that you'll get "bulky" if you lift, but this couldn't be more wrong. I'm stronger and more toned thanks to strength training, and physical strength has impacted all areas of my life, from walking up the stairs to being less susceptible to injury. Mentally, it's been a blessing - it's a great stress relief, and I feel much more easygoing and happy as a result. I might even try some strength-based competitions in the future."
"Even if I encourage one other person to try strength training, it'll be worth it."
Kejal Ashra-Blundell is head of PR at personalised nutrition company, ZOE. She wants to inspire more women to take up strength training after giving it a go herself.
"I started strength training with my personal trainer, Alexandra at FitMe training, over 18 months ago. I see her twice a week consistently and mostly focused on strength training."
"My motivation was two-fold. Firstly, I started to have lower back issues caused by sitting too much as I have a desk job. I knew I had to do something about it, and building strength was key to the plan. Secondly, my mum went through early menopause at the start of her forties, and I read a few years ago how beneficial resistance training can be for offsetting muscle and bone density loss during menopause. I'm in my mid-thirties, entering the peri-menopause soon, so it felt like the perfect time to give it a go."
"Strength training makes me feel strong and powerful. It's a mindful practice - you can't think about your inbox or what you're having for dinner, only on the task at hand. Women especially fall into the trope of worrying they get too muscly, but that doesn't happen. You'd have to be a semi-pro or pro powerlifter to get that level of body composition."
"The #strongnotskinny movement resonates deeply with me. I don't aspire to lose weight, but I do have goals to get stronger. Women who power lift are inspiring to me, and even if I encourage one other person to get into it, it'll be worth it."
Shop MC UK's go-to workout kit now
These dumbbells are a firm favourite of MC UK Health Editor Ally Head. Having first invested in them in lockdown, she's used them on repeat ever since. Why does she like them so much? They're affordable, as weights go, but high quality, too. Just what you need to smash those home arm workouts.
RAD ONE Varsity Training Shoe
This unisex training shoe by US brand RAD is a versatile piece of gym kit. As well as being cushioned for side movements, the trainers are also stabilised for lifting which is just what you need for a spot of weight training. We're a fan of the simple and stylish green-white colour combo, too.
Conscious Citizen Basics Seamless Leggings
When you're taking part in strength training, you want your sole focus to be on the workout and not on ill ill-fitting kit. These leggings by sustainable lifestyle brand Conscious Citizen are sculpting, don't chafe, and feature a high waist that leaves you feeling secure, not in fear of them rolling down.
Is it okay to strength train every day?
Both of the experts we spoke to for this piece and the general consensus among professionals in the industry is that strength training every day isn't necessary or advisable - you need time for your muscles to recover, after all, and working out every day won't allow this to happen, in turn increasing your chance of injury.
Current NHS guidelines advise aiming for at least two strength training sessions of twenty minutes or longer a week. "Do muscle-strengthening activities that work all the major muscle groups - legs, hips, back, abdomen, chest, shoulders and arms," their website recommends.
Celebrity news, beauty, fashion advice, and fascinating features, delivered straight to your inbox!
Amy Sedghi is a freelance journalist, specialising in health and fitness, travel, beauty, sustainability and cycling.
Having started her career in The Guardian newsroom working with an award-winning team, Amy's proud to have reported on a variety of topics, speaking to a range of voices and travelling far and wide to do so. From interviews on ski lifts to writing up breaking stories outside courtrooms, Amy is used to reporting from a range of locations (she's even been known to type up a story in a tent).
She also loves being active, spending time outdoors and travelling - with some of her favourite features she's worked on combining all three. Cycling and eating her way round the Isle of Man, learning to sail on the Côte d'Azur and traversing the Caminito del Rey path in Spain are just some of her highlights.
Covering a diverse range of subjects appeals to Amy. One minute she may be writing about her online styling session with Katie Holmes' stylist and the next she's transporting readers to the basketball courts of Haringey where she joined a group trying to lower knife crime in the capital.
While at university, Amy was awarded The Media Society bursary. Following her stint at the Guardian, Amy worked at Google and as well as writing for Marie Claire, she regularly contributes interviews, features and articles to National Geographic Traveller, The Guardian, The Independent, The Telegraph, Stylist, Refinery29, Glorious Sport, Cycling Weekly and Rouleur.
When she's not writing, Amy can be found trying to get through her towering stack of books-to-read, cycling down at Herne Hill Velodrome or looking for the next place to eat and drink with friends.