Just in: these are the 10 sunrise alarm clocks Marie Claire UK Editors actually use to wake up naturally
Struggling to get out of bed in the morning? We've got just what you need...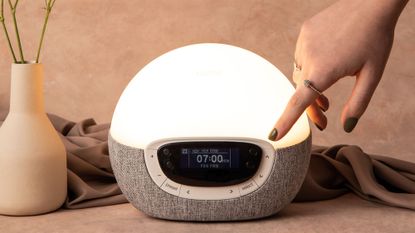 (Image credit: Lumie)
Jumping out of bed in summer feels easy, right? What's not so easy is getting up when it's pouring with rain and practically baltic outside. Enter stage right, our edit of the best sunrise alarm clocks: clocks designed to ease you into your day.
You may have seen these futuristic-looking clocks filling your social media feed and wondered what on earth they are, but don't worry - we've got the full lowdown on how they could transform your mornings for the better, below.
As Senior Health Editor here at MC UK, I rave about sunrise alarm clocks a lot. They've transformed my mornings and make waking up in winter immeasurably easier - so much so, I've got the whole team using them.
That's right - team Marie Claire UK has been testing the most popular models on the market. Below, you can shop the ones we genuinely love and use every morning.
Keep scrolling for our roundup of team MC's favourite sunrise alarm clocks, whether you're looking for a high-tech option or one that will blend in seamlessly on your bedside table. We're all about getting a good night's sleep, so we've also rounded up the best silk pillowcases and the best pillow sprays to step up your beauty slumber.
Best sunrise alarm clocks: your guide
How do sunrise alarm clocks work?
If you struggle with SAD (that's seasonal affective disorder, FYI) these alarm clocks could also help. According to the NHS, SAD is often linked to reduced exposure to sunlight during the shorter autumn and winter days. Not only will the natural light from your alarm clock stimulate lighter mornings, but you can keep it lit throughout the day to help get you through the dark winter months.
One of our favourite benefits? Using a sunrise alarm clock means we don't find ourselves scrolling through social media the second we wake up.
Are sunrise alarm clocks worth the money?
They might be more of an investment, but a sunrise alarm clock can be a form of mental health help by getting your morning off to a gentler start.
Not all sunrise alarm clocks have to be expensive, either. If you don't want all the extra add-ons, such as soothing meditations or multiple light settings, you can find some amazing options at incredible prices.
Ever find yourself asking how can I get to sleep or Googling insomnia treatment? We've asked the experts for their top tips.
Testing process
In other words, what did we look for when testing? Good question. While there are more details on how we test here, for this article, we considered the following:
Was the alarm clock an affordable price point?
Was it easy to set up?
Was it just a light alarm clock, or were there options for audio or radio alarms, too?
Did it work as it said it would?
Did it affect our quality of sleep for the better?
The best sunrise alarm clocks as chosen by team MC UK:
Best sunrise alarm clock overall - Editor's pick:
Lumie Bodyclock Shine 300 Wake Up To Daylight Table Lamp
Reasons to buy
+
Easy to use
+
Wakes you up gently.
Reasons to avoid
-
Mid range price point
-
Fairly basic functionality.
Ally Head, Health Editor says: "If you've ever Googled a sunrise alarm clock, you'll definitely have come across this brand as the Lumie lamps are some of the most popular on the market."
"This model - the Lumie Bodyclock Shine 300 - is a fairly basic design that promises to allow you to experience a more regular sleep and wake pattern with a simple plug-in and switch on. So, what did I think when testing? I loved it. It was simple to use and made my wake-ups 100x easier. I was initially worried about setting a "wake-up period," - would I be up way earlier or later than I needed to be? - but never found it an issue."
"Need-to-knows: You can set a sunrise duration of fifteen to ninety minutes and you can also choose your preferred final light intensity to wake you up in the mornings. It also comes with 14 different wake-up sounds if you like a little bit of extra noise. I found this alarm clock great for the evenings, too. You can wind down with the sunset feature and the fading light helps to produce melatonin (important for a good night zzz)."
"I've also tried the Bodyclock Spark 100 - read my Lumie alarm clock review, here."
Best luxury sunrise alarm clock:
Lumie Bodyclock Luxe 700FM Alarm Clock
Reasons to buy
+
15-90 minutes of sunrise/sunset duration
+
27 sleep/wake-up sounds
+
FM radio and Bluetooth.
Reasons to avoid
-
Higher price point
-
Bulky for smaller bedside tables.
Sofia Piza, Producer and Health Writer says: "At first glance, I was really excited to test this Lumie model for many reasons, but mainly because I'm always keen to try something that promises to smooth out waking up during frosty autumn mornings."
"This sunrise alarm clock really did that and so much more. One of my main concerns was adjusting the sunrise duration - I'm a really sensitive sleeper and didn't want to risk waking up earlier than needed and feeling groggier. However, on those days when it did happen - in other words, the light woke me up earlier than I normally would have woken - it only helped me ease into my mornings more. Having more time is a luxury, and the Lumie helped with that a lot."
"The 25+ sounds offered also helped me wake up and fall asleep to my choice of birdsong and white noise. I really enjoyed this functionality - before, I'd been doing this via a YouTube video on my phone (not the best for boosting sleep hygiene)."
"Additionally, I also found myself using the lamp during my WFH days for some extra light and loved that you could listen to both music and the radio through the built-in speaker."
"Overall, this product has been a massive game-changer for me. It's helped me use my phone less at night and in the mornings - now, I don't have an excuse to keep it on my bedside table for my alarm. Despite its slightly higher price point, I think this sunrise alarm clock is an all-round product that supports beyond waking up. A great investment for the many chilly winters to come."
Best sunrise alarm clock for winding down:
Philips Wake-up Light Sunrise Alarm Clock with 7 Sounds
Reasons to buy
+
Range of natural sounds to help you relax and wake-up
+
Easy to set up and use
+
The wind-down setting is perfect for anyone who struggles to calm their mind before bed
Reasons to avoid
-
The design is simple, but it's quite large and chunky - so may not be right for someone who wants a chicer-looking alarm
Jadie Troy-Pryde, News Editor says: "I noticed over the summer that my sleep pattern was not so much out of whack but on a whole different time zone - feeling wired until the early hours and consequently needing at least seven full-volume morning alarms to permeate my near-conscious state. So when it came to testing the Philips Wake-Up Light, I was all in."
"While it offers a number of traditional alarm clock functions - like FM radio and multiple pre-set profiles - the wind-down and wake-up settings were the ones that I used the most. Combining light therapy with a variety of soothing sounds, you can adjust both the brightness and the volume to create profiles that are unique to you. There are seven different sounds to rest and rouse you, all inspired by nature, and the patter of waves teamed with the gradually dimming light usually have me snoozing before the 30-minute wind-down window has even finished."
"With my blackout blinds down, I also wanted to see if the sunrise simulation would succeed in getting me out of bed. And it's not an exaggeration to say that I was nothing short of astounded when the soft forest birds chirping were waking me up with ease, given that multiple thrashing iPhone alarms had been failing to do it for months."
"Am I a convert? Absolutely. In two weeks I have already noticed a huge difference in my ability to wind down and wake-up. I don't know why I didn't try it sooner."
Best sunrise alarm clock for mood lighting:
Beurer WL50 Wake Up Light
Reasons to buy
+
You can set how long it takes for the 'sun' to rise
+
Features LED mood lighting
+
Has an easy touch on/off button
Reasons to avoid
-
Not a great battery life
-
Green digital clock not very aesthetically pleasing
-
It's a bit tricky to set up
Alice Carter, Social Media Editor says: "I've heard so much about the sunrise alarm clocks and how they change your morning routine.
"Now I've tried it, I can back those claims. The Beurer WL50 has helped to make my morning wake-ups much gentler way and more relaxed - especially important when it's dark outside and near impossible to get out of bed."
"The main stand-out of this model, in my opinion, is the different colour LED mood lighting. I utilised it at night time to help set the mood for sleep and remind my brain to switch off. Plus, the on and off button couldn't be simpler, making it easy to use."
"It's worth noting, though - I found that the battery life isn't the longest, which means it's essential to have it plugged in next to your bed. Unlike some other models on the market, the watch face doesn't dim in the dark, meaning you can see the green glowing digital clock in the dark. It wouldn't put me off buying, it though, and overall I'd definitely recommend investing if you're looking to change your morning routine."
Best classic sunrise alarm clock:
Lumie Sunrise Alarm Wake up to Daylight Table Lamp
Reasons to buy
+
Affordable
+
Makes waking up in winter much easier
+
No need to have a phone beside bed for alarm or wake up/wind down sounds.
Reasons to avoid
-
The display is a little bright
-
Takes some getting used to for beginners
-
Quite bulky
Treasa Burns, Senior Designer says: "I've been using this Lumie Table Lamp for a couple of weeks now and it's made a huge difference to my morning routine. I found it easy to set up and enjoyed creating a phone-free zone in my bedroom, thanks to the lamp."
"Prior to Lumie, I'd been using gradual sounds to wake up, but the addition of the natural light creates a far more gentle wake-up experience. Sitting up in bed to turn the side light on can be a real struggle at 7 am, yet this Lumie removed this annoyance completely."
"I did find the display a little bright - it took some getting used to, to begin with - and it is a tad bulky compared to other models. That said, I had no other complaints to note, and felt they were a small price to pay for something which has massively improved my morning routine. It makes exercising in the morning so much easier, plus there's no need to have my phone beside the bed for my alarm, so I can use the soothing sounds to wind down instead of scrolling through my phone before bed."
5 more sunrise alarm clocks to shop now:
Best affordable sunrise alarm clock:
Groov-e Light Curve Wake Up Light with FM Radio & Alarm Clock
Reasons to buy
+
Affordable price point
+
One year guarantee.
Looking for a more affordable version of a sunrise alarm clock? Then we recommend trying the Groov-e Wake Up Light, which is currently on offer at just £24.99.
Although it's a more basic model, it has everything you need for a good wake-up call. How so? Well, it comes with a sunrise and sunset simulation and eight different alarm sounds to choose from.
Best Amazon sunrise alarm clock:
Sunrise Alarm Clock Wake Up Light
Reasons to avoid
-
Again, can be fiddly to set up.
This alarm clock has hundreds of five-star reviews, and it's not hard to see why. Not only is it a great price, but it comes with sunrise and sunset stimulation, seven LED light colours, a range of natural sounds and an FM Radio.
Best decorative sunrise alarm clock:
COULAX Daylight Alarm Clock
Reasons to buy
+
Light and radio functionalities
+
Affordable price point
+
Stylish yet functional.
Reasons to avoid
-
Wood might not go with every interior aestheic.
Looking for something that'll blend seamlessly into your home decor? We love this wood effect alarm clock by COULAX. It has a sunrise stimulation, a "sleeping" mode with dual alarm and snooze functions, and can also be used as a bedside lamp.
Best hi-tech sunrise alarm clock:
Beurer WL75 Wake-Up Light Alarm Clock
Reasons to buy
+
Sunrise alarm clock, radio alarm, and speaker.
+
Over 200 mood light options.
After something a little more hi-tech? Then look no further than the Beurer WL 75 sunrise alarm clock. It has everything you would expect from a luxury version, but it also incorporates multiple settings to make it a functional 4-in-1 product. Enjoy a radio alarm, stream music via Bluetooth, or enjoy the wide range of 256 nuances to control the mood light. This can all be controllable from your smartphone via the Beurer LightUp app. Neat.
Best stylish sunrise alarm clock: