Without question, these are the best gradual tanners I have ever reviewed as a beauty editor
I call them my "slow glows"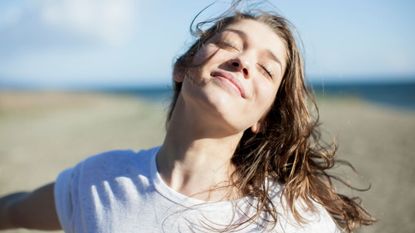 (Image credit: Getty Images 651953563)
Summer has well and truly left the building. I'll admit that the recent warm weather confused me slightly and I had to wear some rather odd outfits, having vacuum-packed my summer wardrobe and popped it into the loft. But just because the sun isn't around as much, doesn't mean my desire for glowy skin has disappeared. Enter the best gradual tanners money can buy.
These glow-getters are one of the best fake tans for an easy and subtle way to add a wash of colour. At this time of year, when I'm wearing more layers and longer hemlines, I don't need a super speedy instant tan, a product that will warm the colour of my skin overnight of throughout the day is ideal.
Jules Von Hep, tanning expert and creator of Isle of Paradise, loves a gradual tanner. "Gradual tans are the easiest way to achieve a long-lasting glow topped up. I love using gradual tanners on holiday instead of an After Sun to keep my glow going for longer, as well as when I return from holiday."
Best gradual tanners 2023:
I am also a huge fan of a gradual tan. Despite being a beauty editor, my approach to fake tan is rather hesitant. I am a nervous tanner. Which is why when I need a wash of colour, I either go and see James Harknett at the W Hotel for the best spray tan in London who is faultless or I reach for a gradual tan.
Which makes me more than qualified to approve this best gradual tanners list. I have used so many in my time that I know exactly what works and what doesn't. Here's what I was looking for:
pleasure to use - there's nothing worse than a product that's overcomplicated or easy to get wrong
gives a beautiful wash of colour - whilst I always err on the side of subtle, it's also important that these can be built up to create darker shades for those that want it
price - it's always important to have affordable and luxury options to suit everyone
scent - we all know that some self-tanners give off a biscuity smell, but I want to make sure that it isn't too overwhelming
I've rounded up my favourite formulas and included everything from the best gradual tanner for beginners to the best one for everyday use and more.
1. St. Tropez Gradual Tan Tinted Body Lotion
St. Tropez Gradual Tan Tinted Body Lotion
Best gradual tanner for beginners
Reasons to avoid
-
Won't work well on super pale skin
St. Tropez know what they are doing when it comes to fake tan. And what I loved about this gradual tanner is there's a slight tint to the formula so I could see exactly where I was applying it. Meaning I was less likely to get streaks, as I could see which areas I had already done. Plus that instant glow is ideal for anyone who's in a hurry.
2. Isle of Paradise Self-Tanning Butter
Isle of Paradise Self-Tanning Butter
Best gradual tanner for a deep bronzed glow
Reasons to avoid
-
This will be way too dark for some people
This self-tanning butter is a two-week holiday in a bottle. When this product first launched, I named it one of my best beauty products of 2021. It was the only gradual tanner I would use. I loved how much it nourished my skin, but be wary it does develop into a deep colour, so perhaps keep this one for the end of winter, beginning of Spring.
3. Dove Visible Glow Self Tan Lotion
Dove Visible Glow Medium to Dark Self Tan Lotion
Best affordable gradual tanner
Reasons to buy
+
Super affordable
+
Comes in two shades
I have used this for years, and years, and years. So has my mother, so has my mother-in-law and so do my sisters-in-law. It's clearly a family thing. But the reason why? For so many reasons. Because it's so affordable, it's reliable, and it's subtle. Even the Medium-Dark can take about two to three applications to really get a proper tan.
4. Isle of Paradise Self-Tanning Drops
Isle of Paradise Self-Tanning Drops
Best gradual tanner for your face
Reasons to buy
+
Suits all skin tones
+
You're in control
Reasons to avoid
-
Takes some time to work out the ideal amount of drops to suit you
This is my ride-or-die product. In fact, I have written many, many timesof my devotion to them. I love that I am in control of how much of a glow I'm going to get. Whenever I use this people always comment on how healthy I look. Which, as a tired mum of two, is the greatest compliment I could receive. There are three shades to choose from, depending on your skin tone. It can be added into moisturisers or serums.
5. Garnier Summer Body Hydrating Gradual Tan Moisturiser Light
Garnier Summer Body Hydrating Gradual Tan Moisturiser Light
Best gradual tanner for every day
Reasons to avoid
-
Perhaps too subtle for some people
I've always loved Garnier body creams, so a formula that also tans is a winner for me. What I like the most about this product, aside for the super summery scent, is that I didn't worry about using it everyday. It felt like I could do that without going too dark. I'm naturally pale - see-through in some lights - so that's always a worry for me.
6. Bondi Sands Pure Gradual Tanning Milk
Bondi Sands Pure Gradual Tanning Milk
Best ethical gradual tanner
Reasons to avoid
-
Takes a while to develop
Right, I have to start this off by saying this product took the longest to develop. So if you want results quickly, go for one of the others on this list. What is brilliant is that it's really hydrating, so felt like it was just my normal body lotion that eventually gave my skin a tint. The bottle is also made from 100% ethically sourced recycled plastic.
Why should you use a gradual tanner?
A gradual tanner is the perfect way to achieve a more subtle sunkissed look. Your traditional fake tans tend to be deeper in colour and require a little bit more admin - full exfoliation, allowing proper drying time and avoiding water for the first six hours or so.
If what you're after is healthy looking skin, without the rigmarole one of the best gradual tanners above will do exactly that.
How should you apply a gradual tanner?
With the majority of them, you can just use them in lieu of your daily face or body cream. With others - like the Isle of Paradise drops - you add them into your best moisturiser. The more drops, the deeper the tan.
"Always wash your hands after application," says Von Hep. "Especially palms and in between fingers. Exfoliate prior to your first application, and then a week after to ensure any old tan is removed."
How long does gradual tanner last?
"On average you will start to see colour over the course of three days. Once you have reached your desired shade, simply apply on alternate days to maintain your glow." Be sure to use a good nourishing body cream on the days when you're not tanning. This will help the tan last.