4 of the best pillows you can buy for a good night's sleep
Trust me, I've tried them all...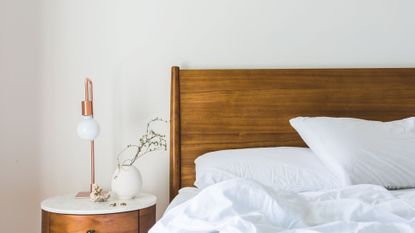 (Image credit: Getty Images 1459738871)
Self-care looks different for everybody, but the one thing that I always try and prioritise is a good night's sleep. You don't need me to tell you how important sleep is, but sometimes it can be hard to get your eight hours a night.
Whether it's too noisy outside, you can't get comfortable or perhaps you're feeling stressed about something the next day, there are lots of things that can keep you awake when all you want to do is drift off.
However, over the years, I've come up with lots of little ways to help me wind down before bed such as doing a relaxing yoga class, spraying my favourite pillow spray or doing a calming meditation.
Something else that I invested in that has dramatically improved my sleep is a good quality pillow. This might seem like a simple step, but with so many different pillows on the market, it can be hard to know which one to go for.
So, I took it upon myself to speak to the experts to understand how to find the right pillow for you, and I've tested a range of different pillows and included my top picks below. Keep on scrolling for everything you need to know, and get ready for you best night's sleep yet...
What different types of pillows are there?
As mentioned above, there are many different pillows on the market, so it can be tricky to know which one to go for. According to Theresa Schnorbach, a sleep scientist and sleep expert at Emma, the most popular pillows are down, feather, microfibre and memory foam.
"Down pillows are filled with the soft fibres close to the skin of birds such as geese, ducks or swans," explains Schnorbach. "Similarly, feather pillows use feathers from the wings and backs of ducks and geese as filling. Due to their animal origin, these types of pillows might not be right for everyone - vegans, for example, may prefer another choice - and for some, these types of pillows could potentially cause allergic reactions.
"There are synthetic alternatives to down, such as microfibre pillows, which offer the same level of comfort but can also be machine-washable. Memory foam is another popular choice thanks to its cushiony support."
How to choose a pillow for your sleeping style
When choosing between the different types, it's important to keep in mind how you like to sleep. As explained by Schnorbach, "your pillow helps to align your spine as you sleep which is why the wrong one can cause neck pain and tightness elsewhere in the body. It can also impact on your quality of sleep which is why it's important to find the right pillow for your sleep style." Keep on scrolling to see which one is right for you.
Pillows for back sleepers: According to Schnorbach, back sleepers need a pillow of medium height and softness. Memory foam is a great choice here as the material conforms to the pressure of your neck and shoulders, ensuring you don't wake up with tight or knotted muscles.
Pillows for side sleepers: A lot of people sleep on their side, but this position is at risk of pain without the right support. It's a good idea to buy a pillow created from a firm material to avoid sinking into the pillow. You also want quite a tall pillow, as thick as the distance between your shoulder and ear so that your head, neck and spine are all held in the proper alignment.
Pillows for stomach sleepers: Schnorbach says that finding the correct pillow for stomach sleepers can be tricky. Those who sleep on their stomachs may not need a pillow altogether, or should use a very soft one, as anything too high will cause neck straining and extra pressure on the lower back and abdomen.
How often should you replace your pillows?
So, now you know which pillow to get, when's the right time to take the plunge and invest in a new one?
"A simple test to see if your pillow is effectively supporting your neck is to check if it is holding your head and neck in a neutral position – this means your head, neck and spine are aligned naturally," says Schnorbach. "If you have the correct pillow, then when you lie down, you should be able to imagine a flat, horizontal line running up along the centre of your spine, with your head and neck acting as a continuation of this line. If the line curves or bends, then your pillow might not be supporting you in the right way, and it could be time to replace it."
I also spoke to the sleep experts over at Simba, who said as a general rule, you should replace your pillow every two years. If you feel that you're in need of an upgrade, check out my top picks below. Happy shopping, or should I say, sleeping!
The best pillows to buy now
1. Silentnight So Full Pillow
Silentnight So Full Pillow
Best affordable option
Specifications
Filling: DuPont fibres
Support: Soft/medium
Length: 69cm
Machine-washable: Yes
These Silentnight pillows are one of my absolute favourites, and for the price, you really can't go wrong. I either sleep on my front or back, so don't need something really firm, and this style provides the perfect soft to medium support. They feel super bouncy after months of use and look nice and full on my bed, plus they are hypoallergenic so are nice and kind to my skin.
2. Emma Foam Pillow
Emma Foam Pillow
Best firm pillow
Specifications
Filling: Memory foam
Support: Firm
Length: 70cm
Machine-washable: Cover only
If you're looking for something really firm, you can't go wrong with the Emma Foam Pillow. As someone who doesn't need firm support, they were a little too hard for me, however my partner is a side sleeper and found them very comfortable. What's clever about this pillow is that it comes with adjustable layers, so you can switch up the pillow depending on how thick you want it to be.
3. The Simba Hybrid Pillow
The Simba Hybrid Pillow
Best personalised pillow
Specifications
Filling: Foam nanocubes
Support: Adjustable
Length: 70cm
Machine-washable: Yes
Another really hi-tech option is the Hybrid Pillow from Simba. I was really excited to try this style, and I couldn't be more impressed. It's firm yet still feels full and bouncy, which can be quite hard to find. Plus, the pillow can be completely personalised to you, as it's filled with hundreds of Nanocubes® that can be added or removed to tailor the height and firmness. These foam cubes have also been designed for maximum airflow, allowing air to escape to keep you cool throughout the night.
4. Dusk Feels Like Down Medium Pillow
Dusk Feels Like Down Medium Pillow
Best medium pillow
Specifications
Filling: Microfibre
Support: Medium
Length: 75cm
Machine-washable: Yes
If you're looking for an affordable option with medium support, say hello to the Feels Like Down Medium Pillow by Dusk. These pillows are filled with 100% fine microfibres to resemble a luxury Down pillow but without any feathers, so those of you with allergies don't have to worry. They aren't as plump as other designs, but when testing I practically sank into them for a super comfortable sleep.
Celebrity news, beauty, fashion advice, and fascinating features, delivered straight to your inbox!
Grace Lindsay is currently Junior Beauty Editor at Who What Wear UK and previously was Marie Claire UK's E-Commerce Writer. With over three years of experience in the fashion and beauty industry, she covers everything from the best make-up and skincare deals to how to shop the stand out trends of the season. When she's not typing away at her laptop, Grace can be found shopping her favourite vintage markets IRL, or catching up on her never-ending list of books to read.