Happy 70th birthday to the bikini! Which swimwear style icon are you?
Beach babes don't come much better than this lot.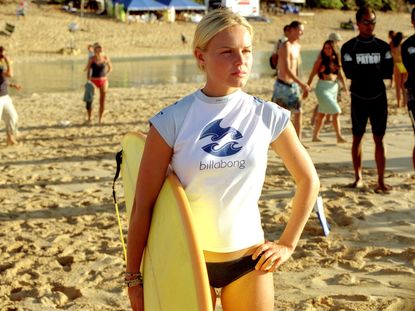 (Image credit: Everett/REX Shutterstock)
Beach babes don't come much better than this lot.
But are you more of a Bond girl, a Blue Crush surfer chick, or a silver screen swan (complete with haute swimming cap)? As the bikini celebrates its 70th birthday today, pick your swimwear style icon for the summer and take a look back at the most iconic one-piece swimsuit and bikini moments in history...
Kate Bosworth in Blue Crush (2002) Throwing us back to the early Noughties (and the very beginning of Bosworth's career) is the ultimate Cali beach flick, Blue Crush. We made the shark tooth bracelets, we bought the Billabong... but we never *quite* matched the surf skills of our first beach style icon. We'll be recreating these vibes this summer with athletic cuts and cool neoprene fabrics.
Grace Kelly in To Catch A Thief (1955) The absolute ultimate in beach chic, Grace's famous look was all in the accessories. Huge cat eye shades, a silk chiffon head scarf and a raffia beach basket define her vintage look - a styling trick we can all steal for ourselves.
Ursula Andress in Dr. No (1962) Arguably the most iconic bikini moment in film history, Swiss sex bomb Ursula Andress (playing shell diver Honey Rider) emerged from the sea wearing a white bikini in the 1962 film, Dr. No. With her stunning model looks, athletic physique and dialogue jam-packed with innuendo, she had 007 (and the rest of the world) in awe of her. The Bond girl was born.
Keira Knightley in Atonement (2007) If only we looked this good at our local lido. Keira's positively swan-like in this classic white one-piece and cap in 2007 film Atonement. If you're a committed member of a swimming club or simply fancy a more striking retro fashion look, this is the muse for you.
Halle Berry in Die Another Day (2002) Another Bond girl who is slightly under-equipped in the weapons department. Halle channelled that Ursula Andress moment almost 40 years after the original, accessorising her simple Eres bikini with a white leather knife belt.
Brigitte Bardot in Cannes (1953) This beautiful shot of a young Brigitte Bardot on the beach during the 1953 Cannes Film Festival put the French actress on the screen siren map. The 18-year-old ingénue, wearing a floral print bandeau bikini, posed on the beach for photographers (who, me?) and helped bring the then-risqué two-piece to the world's attention.
Bo Derek in 10 (1979) After Bo Derek's famous beach jogging scene was released in 1979, women everywhere wanted those shell-tipped braids. The camel-coloured halter one-piece also kick-started a trend for flesh coloured swimwear - a tricky one to pull off if you're thinking of bringing it back for SS15...
Marilyn Monroe (1950s)
This shot of the actress wearing a white bikini shows Marilyn at her bombshell best. With her platinum blonde locks coiffed to perfection and full make-up and accessories, we'll be channelling this look at our next garden pool party, naturally.
Elizabeth Taylor in Suddenly, Last Summer (1959) Liz reminds us exactly why she's regarded as one of the best natural beauties the world has ever seen. Looking every inch the glamorous '50s screen icon, she's working an off-the-shoulder, button down cossie like only she could.
Raquel Welch in One Million Years B.C. (1966) Playing cavewoman Loana in the dinosaur fantasy film, Raquel Welch was turned into an overnight star when she flaunted her beautiful figure in a fur bikini. Copies of the now-famous publicity poster sold in their millions, making Raquel the pin-up girl of the '60s and cementing her place in cinema history.
Gwyneth Paltrow in The Talented Mr Ripley (1999) There's a lot to talk about in this particular film still. Gwyneth's vintage print bikini, of course. Our sudden, Pinteresting urge to buy a classic deckchair, naturally. But also let's take a moment to appreciate 'rising star' actor Jude Law in all his tanned n' hairy glory.
Farrah Fawcett (1976) This red one-piece was kind of responsible for the launch of Farrah's career. The all-American beauty was pictured fronting the then-new TV series Charlie's Angels and its popularity provided inspiration for many beach babes to come, including Pamela Anderson in Baywatch.
Destiny's Child, Survivor (2001)
Coco Chanel (1930s) The actual inventor of riviera chic, Chanel put the entire nautical look on the map in the 1930s when she took style inspiration from sailors and gave the fashion world one of its favourite beach shoes, espadrilles. If you love nothing more than a classic blue block stripe, take your cue from Coco this summer.
Pamela Anderson in Baywatch (1993) Pamela gave the one-piece her own,very high-cut twist in 1993 when she debuted her iconic red hot lifeguard 'uniform'. Thinking of channelling this one for SS15? Beware of the tan lines, people.
Celebrity news, beauty, fashion advice, and fascinating features, delivered straight to your inbox!