Saint Laurent takes on Paris Fashion Week with power shoulders and puffballs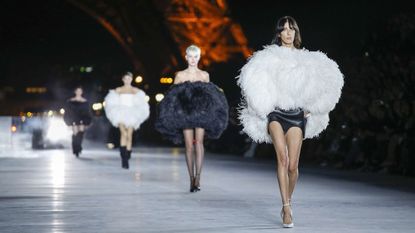 (Image credit: Pixelformula/SIPA/REX/Shutterstock)
Anthony Vaccarello set the Paris skyline on fire last night with a dazzling Paris Fashion Week 2017 show that ratcheted up his hard-edged, glamorous vision for Saint Laurent another notch – or several…
The setting couldn't have been more dramatic. Guests sat out in the open under the night sky in floodlit, stadium-style seating at the Fountain of Trocadero. The famous tourist spot is up close and personal with the Eiffel Tower, which was so nearby that it seemed to be towering over the runway, like a giant, Paris-perfect set.
Strict instructions on the invite meant that we were all present and correct in our seats 15 minutes before the 8pm showtime (basically, a fashion-month miracle – such is the power of SL). It all made sense as we watched the Eiffel Tower, lit every hour on the hour at night, begin to twinkle like a huge Christmas tree in the darkness - a few minutes after 8pm, as it turned out. But when you're Saint Laurent, the city of Paris will bend the rules...
Pierre Berge, Yves Saint Laurent's legendary 'other half' - in business and romance - spent his life guarding both Yves himself, and the legacy of his house. Berge died last month, and this show was a fitting tribute.
Amongst billowing clouds of smoke, Vaccarello's new take on his SL vixen started to stalk down the concrete runway. For day – well, as much 'day' as she does, call it pre-cocktail hour – she's gone a tiny bit Moroccan, and a tiny bit bohemian. It was a reminder of Yves' trippy 1970s moments in Marrekech, but seen through Vaccarello's sharp, shiny prism.
Frothy little tops and dresses came in white lace and crochet, some trailing shredded hems. There were sheer chiffon bras and a couple of billowing kaftans.
And of course – lashings and lashings of Vaccarello's favourite black leather, mainly in the form of high-waisted belted shorts.
The Grace Jones-worthy power shoulder, an emerging Saint Laurent signature, was there in spades – in plays on the classic YSL Le Smoking, plunging brocade micro dresses, and a standout cropped jacket with huge zebra print lapels.
And there's a new boot in town. Last season's sellout slouchy, sparkly thigh boot has been replaced with an even more OTT take, covered in feathers – fluttering in the night time breeze, the girls resembled slinky French yetis. Yes, that is now a thing.
Eveningwear is Vaccarello's big love, and this season he pumped up the pouf shape into extreme proportions.
There were giant single sleeves, off the shoulder satin tops and short puffball dresses in feathers, leather and sequins.
Kaia Gerber provided the template for this winter's party dressing, SL style, in a strapless sparkly puffball worn with sheers, stilettos and shoulder-sweeping earrings. Some might say Vaccarello's vision is one note - and that note is 'pass the champagne, s'il vous plait'. But for the legions of glamazons who are already Whatsapping their stylists with demands for the feathers! the bags! the boots! the crystal earrings! the Saint Laurent party won't be winding down any time soon.
Keep an eye on Marie Claire UK for the rest of our up to date fashion week coverage, our style experts have boots on the ground and will be zipping show reports your way.
Celebrity news, beauty, fashion advice, and fascinating features, delivered straight to your inbox!