5 Reasons Why We Want To Be One Of The Boys
The London Collections: Men (LCM) kicked off the 2014 fashion calendar in super style. Here's why...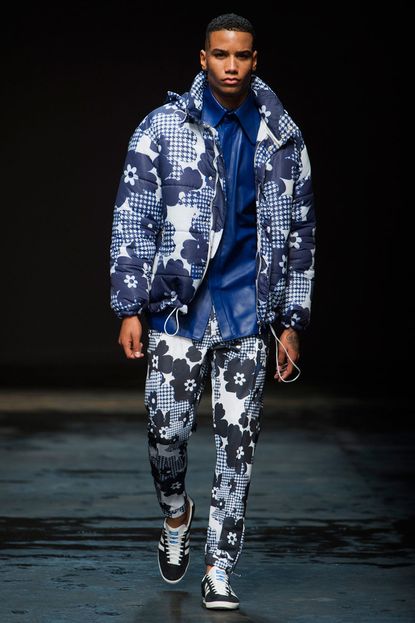 The London Collections: Men (LCM) kicked off the 2014 fashion calendar in super style. Here's why...
The last year has seen London-based menswear go from a flutter on the fashion show schedule to a full blown extravaganza – fuelled equally by a demand by men for well-designed fashion as much as the burgeoning crop of slick designers on the scene. The London Collections: Men is now in its fourth season – and frankly we're all over it. What's not to love about nice looking young men wearing chic ensembles? Exhibit A: this beauty from Christopher Shannon's show (pic below) – excellent casting work, Sir. Apart from Mr Look 22, this is what we're eyeing up to nab from the boys' department come next winter.
1. Casely-Hayford's monochrome coat
The East London born and bred father-and-son duo (Joe and Charlie respectively) produced their first ever show this week – blurring the generational lines to show off sharp tailoring and modern prints. Their dream monochrome single-breasted crombie coat is calling out to us.
2. Burberry Prorsum's giant geometric print super-tote
We're calling this look Pete Doherty meets James Dean via Sebastian Flyte. We're very into the jaunty red printed mac, we're down with the insouciant scarf tying and sure, even the string vest. But good grief, we're INTO that giant man bag, hello rom-com weekend retreat…
3. Richard Nicoll's Liberace shirt
There is a lot to lust over from Mr Nicoll's slick-as-a-Wall-Street-trader collection: the sky blue wool parka, the pink and burgundy gingham check knit, the clever is-it-a-tie-or-is-it-a-print shirts… and as for this scrumptious homage to blue in frills – come to MAMA. We also like the trainers. A lot.
4. J. W. Anderson's tabard
Here is a little avant garde crazy to mix up your safe tailoring. It's all very Celine – and this structured tunic would look a treat over our flirty accordian pleated skirt/cropped black trouser. Lovely.
5. Christopher Raeburn's polar bear knit
Everyone knows there is nothing finer than getting all winter cosy by nabbing a boys' jumper. Post the Novelty Knit Christmas of 2013 (RIP), we are thinking something a little chicer and pared back for the next festive season. Step forward this polar bear cosy. Amusing and aesthetically pleasing. What more can you ask for?
Celebrity news, beauty, fashion advice, and fascinating features, delivered straight to your inbox!