Sex and the City quotes that are still relevant today
Sex and the City gave us some of the best quotes about fashion, sex, love and friendship. So let's recap some of the funniest, most astute and heart-warming lines from the oh-so fabulous Carrie Bradshaw & co.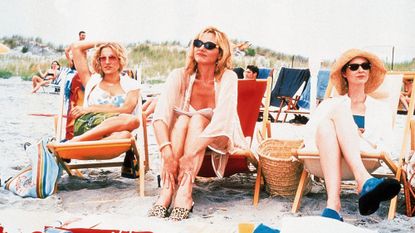 (Image credit: Rex)
Sex and the City gave us some of the best quotes about fashion, sex, love and friendship. So let's recap some of the funniest, most astute and heart-warming lines from the oh-so fabulous Carrie Bradshaw & co.
1. 'I've spent $40,000 on shoes and I have no place to live? I will literally be the old woman who lived in her shoes!' Carrie Bradshaw
2. 'Honey, what's the point of being in the suburbs if you're not going to fuck a gardener?' Samantha Jones
3. 'I know your friends just fine. Charlotte is the brunette, Miranda is the redhead, and Samantha is trouble.' Mr Big
4. 'He has one ball, and I have a lazy ovary! In what twisted world does that create a baby? It's like the Special Olympics of conception.' Miranda Hobbes
5. 'I don't want to be the up-the-butt girl, because I mean... Men don't marry up-the-butt girl. Whoever heard of Mrs. Up-The-Butt? No, no, no. I can't. I want children and nice bedding, and I just can't handle this right now.' Charlotte York
6. 'Ugly sex is hot. Some of the best sex I've had is with people I can't stand.' Anthony Merentino
7. 'Gay men understand what's important: clothes, compliments and cocks.' Samantha
8. 'Easy?! You men have no idea what we're dealing with. Teeth placement and jaw stress and suction and gag reflex. And all the while bobbing up and down, moaning and trying to breathe through our noses. Easy? Honey, they don't call it a job for nothing.' Samantha
9. 'What's the big mystery? It's my clitoris, not the sphinx.' Miranda
10. 'Trey, you have a boner... I can't discuss my notes if you have a boner.' Charlotte
11. 'Sexy is what I try to get them to see me as after I win them over with my personality.' Miranda
12. 'I think I have monogamy. I caught it from you people.' Samantha
13. 'And then I realised something, twenty-something girls are just fabulous, until you see one with the man who broke your heart.' Carrie
14. 'Oh please, there's always a competition with an ex, it's called 'who'll die miserable?' Samantha
15. 'Abso-fucking-lutely.' Mr Big
16. 'He raped my face. I'm never dating again.' Charlotte
17. 'I feel the same way about being a bridesmaid as you feel about Botox. Painful and unnecessary.' Samantha
18. 'He doesn't even know me , the least he could do is get to know me before he rejects me.' Miranda
19. 'I curse the day you were born!' Charlotte
20. 'The fact is, sometimes it's really hard to walk in a single woman's shoes. That's why we need really special ones now and then to make the walk a little more fun'. Carrie
21. 'I like my money where I can see it - hanging in my closet.' Carrie
22. 'Maybe we can be each other's soul mates. And then we can let men be just these great, nice guys to have fun with.' Charlotte
23. 'Fuck me badly once, shame on you. Fuck me badly twice, shame on me.' Samantha
24. 'Do any of you have a completely unremarkable friend or maybe a houseplant I could go to dinner with on Saturday night?' Miranda
25. 'Being single used to mean that nobody wanted you. Now it means you're pretty sexy and you're taking your time deciding how you want your life to be and who you want to spend it with.' Carrie
26. 'You and I are like that red wall. It's a good idea in theory, but somehow it doesn't quite work.' Carrie
27. 'All righty? He said all righty? Now I'm thinking the upsetting thing isn't that you proposed, it's that you proposed to a guy that says "all righty".' Carrie
28. 'Oh my God! Do you know what these are? Manolo Blahnik Mary Janes! I thought these were an urban shoe myth!' Carrie
29. 'I'm not even sure bisexuality exists. I think it's just a layover on the way to Gay Town.' Carrie
30. 'Somewhere out there is another little freak who will love us and understand us and kiss our three heads and make it all better'. Carrie
31. 'I will never be the woman with the perfect hair, who can wear white and not spill on it.' Carrie
32. 'I couldn't understand a word she was saying, but I felt I had in my possession all the Italian I'd ever need to know: Dolce, Dolce, Dolce.' Carrie
33. 'I will not be the first one to speak. And if he never calls me again, I'll always think of him fondly, as an asshole.'
34. 'Monogamy is on its way out again. It had a brief comeback in the 90s, but as the millennium approaches, everyone's leaving their options open.' Stanford Blatch
35. 'I will not be judged by you or society. I will wear whatever and blow whomever I want as long as I can breathe - and kneel.' Samantha
36. 'To me the mark of a fine penis is width.' Miranda
37. 'Beauty is fleeting, but a rent-controlled apartment overlooking the park is forever.' Carrie
38. 'I used to think those people who sat alone at Starbucks writing on their laptops were pretentious posers. Now I know: They are people who have recently moved in with someone.' Carrie
39. 'I'm looking for love. Real love. Ridiculous, inconvenient, consuming, can't-live-without-each-other love.' Carrie
40. 'They say nothing lasts forever; dreams change, trends come and go, but friendships never go out of style.