This just in—experts say these 7 hair trends are proving huge this autumn
Yes, the blunt bob is still reigning supreme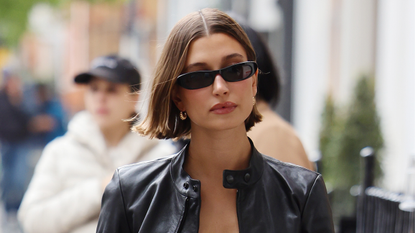 (Image credit: Getty Images)
As a huge autumn fan, this is undeniably my favourite time of year. There's a distinct chill in the air, cosy jumpers are being pulled out from the bottom of drawers, I'm leaning on the best autumn nail trends and it's pumpkin spiced latte season.
This time of year is also ideal to make a reset with your hair by opting for the best seasonal hair trends; the warmer summer months are behind us, and new cuts and autumn colours are awaiting. To find out what autumn hair trends are set to dominate this year, we have reached out to experts to get their takes. Expect short bobs to cowgirl copper hair and everything in-between.
Keep reading to find the perfect autumn hair trend for you.
1. Copper hues
If there's one colour trend the experts all align on this season, it's all things red—and in particular, copper.
Founders of Buller and Rice, Stephen Buller and Anita Rice, explain that, "Light golden coppers are massive this season. Copper block colours with a golden, peachy tone are beautiful."
Colour Specialist and Creative Guest Stylist at Adam Reed, Sarah Black, says red in general will be the 'it' colour for autumn. "Copper and red tones started coming through in 2021. (Gigi went red for the Met Gala and I think about that look most days!) It has stuck around in a big way, and it's not going anywhere anytime soon," she says. "Sun-kissed coppers have had their summer fun, and now rich, luxurious, cinnamon tones are on their way to take over autumn/winter!"
Sarah references Zendaya, Sophie Turner and Jorja Smith among inspiration. "We'll also see lots of experimenting with the other side of the copper spectrum, including rich, cherry reds and deep burgundies," she says
2. Sharp bobs
Cut-wise, the short bob will be going nowhere this season. We've seen styles such as the French bob go mainstream, and autumn will be all about creating a short, sharp silhouette, according to Sarah.
"I think we're set to see short hair having a major moment this fall. I'm excited to see how everyone interprets the shortness and shape, but I think we'll be seeing some really sharp, jaw skimming bobs; stepping away from huge amounts of texture and leaning into clean, strong lines."
Look to the likes of Hailey Bieber for inspiration.
3. Jet brunette
If dark hues are your thing, prepare to have your moment. Nicola Clarke, Creative Colour Director at John Frieda Salons is looking to 'jet brunette' this season.
"What defines jet brunette is a really deep, dark, brunette noir," says Nicola. "It's dark at the root and then the mid lengths and ends have delicate pieces of a flatter brunette and ashier tone, which is a mixture of 2 or 3 shades lighter than the root, making the deep brunette really wearable."
She also points out there is a definite distinction here between 'jet brunette' and its predecessor, 'liquid brunette'. "It is different from liquid brunette because it's a slightly lighter, bitter brunette at the ends."
"It's a permanent colour with glazes layered over it, which have a sheerer pigment and higher reflex," she adds.
4. Bambi blonde
If red and brunette tones aren't your thing, fear not; there's a trending blonde you can try too. Zoe Irwin, Creative Director at John Frieda Salons, has a thing for 'Bambi blonde' currently. It's a shade of deep honey, fawn and vanilla, and is super soft in appearance, created by blending microlights of vanilla sitting on deep slices of fawn.
Sarah is calling this 'autumn blonde', which again, is a softer hue for post-summer recovery. "We'll be seeing a lot of blonde clients running to the salon to get some life back into their hair after a summer of sun, swimming and styling," she explains. "Playing with some depth is a great way to bring your blonde into autumn—not only will this add texture and dimension to your colour, it will reduce the amount of lightening, which will help your hair recover post-summer. Some really well placed golden lightness around your face will still have you feeling like a blonde babe!"
5. Soft bowl cut
Feeling brave? Those looking to go for the chop may want to consider the 'soft bowl'.
"With a possible change in direction to the mixies and the mullet trends, a bowl cut is a perfect and fresh way to spice things up," say Stephen and Anita. "This shape is a reinvention of the classic bowl cut, but working with a much softer edge and natural texture. Although we are more used to seeing this shape smooth, straight and edgy, now it's soft, wavy and sexy. This shape works with the hair more forward, with a fringe and some soft layering to bring out that natural texture."
6. Peek-a-brow fringe
This autumn, fringes are taking a daring turn with a style that may allow you to achieve your micro-fringe dreams, just with less commitment. "It's been a while, but the fringe is making a comeback," say Stephen and Anita. "The peek-a-brow fringe hits above the eyebrow line but is not micro. It's a stronger shape, but you can add some softer edges for versatility."
"This is a perfect look for a change in season and instantly gives you a restyle without having to cut off too much length," they add.
7. The Cher
Long hair ought not to feel left out, because the latest in trending, flowing '70s styles is 'The Cher'.
"The Cher keeps the majority of the style long and softly layered, with a more natural texture throughout," say Stephen and Anita. "But the cherry on the cake is the disconnect around the jaw: almost a cut out similar to a bob shape that lines the jaw and is separate from the rest of the hair."
"It's reminiscent of that iconic haircut by Cher in the '70s, but working more with a natural texture."
Celebrity news, beauty, fashion advice, and fascinating features, delivered straight to your inbox!
Rebecca is a freelance beauty journalist and contributor to Marie Claire. She has written for titles including Refinery29, The Independent, Grazia, Coveteur, Dazed, Stylist, and Glamour. She is also a brand consultant and has worked with the likes of The Inkey List on campaign messaging and branded copy. She's obsessed with skincare, nail art and fragrance, and outside of beauty, Rebecca likes to travel, watch true crime docs, pet sausage dogs and drink coffee. Rebecca is also passionate about American politics and mental health awareness.