We've asked the experts—these are the autumn nail trends to have on your radar this year
Here's the lowdown from 8 top nail artists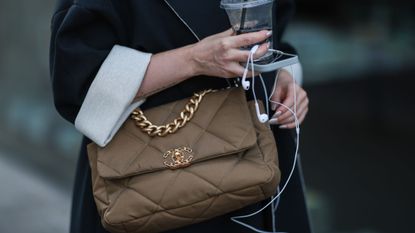 (Image credit: Getty Images/Jeremy Moeller / Contributor)
It's always a very sad time saying goodbye to summer (the few days we had, at least) and the beauty trends that go with it. But when the leaves start to turn, there's one thing we always welcome with open arms—autumn nail trends.
Although it's taking a little longer for the autumn chill to hit, we're ready to start embracing the seasonal changes with delicious merlot shades, like Chanel's classic Rouge Noir, that have us craving cosy. But we're not saying goodbye to pastels just yet, with The Gel Bottle's happy new Matcha Latte shade that we're loving as a French manicure. And we're getting really into metallics with chrome pigments, mirror finish gels and glimmering polishes.
Ahead are some of the best nail trends for autumn, that our 8 experts want you to know about ahead of the new season.
The Top Autumn Nail Trends 2023
1. Vampire red
"Nothing says autumn more than a deep-red manicure," says Liverpool-based manicurist, Keely Decosta, and we couldn't agree more. For this classic shade, she recommends classic brands. "Rough Noir by Chanel is the perfect shade for this," a red-black that's rich, glossy and autumnal definition of quiet luxury. Manicurist Alex Philamond echoes this, "the manicurist community [is all] about the lore around Chanel's Rouge Noir and its predecessor, Vamp, which has consequently caused a spike in requests for so-dark-it's-almost-black reds," he says. "Think: a room-temp bottle of vintage pinot noir and lavish, ebony furniture." If you're visiting the salon wanting a gel colour, Keely loves Pinotage by Bio Sculpture.
Tinu Bello, A-list manicurist and senior brand ambassador for Mylee takes inspiration from Olivia Rodrguez's Vampire using Mylee Diva or Queen of Hearts. For her, the shade has "a beautiful complexity so can be worn with any aesthetic be it goth with a darker almost noir tone or more classic with a wine shade".
2. Matcha hues
"Word on the street is that greens will be a popular hue this coming season," Keely explains—and we're thrilled. We're set to see all shades of the green spectrum this season, from vibrant to pastel. With The Gel Bottle's latest launch of Matcha Latte, "co-ordinate your manicure with your morning matcha latte," says Keely. "Or choose an olive tone and wear it as a French manicure for an interesting pop of colour," she adds. For this nature-inspired colour, Keely loves Moss from A Weathered Penny or Win Me Over by Essie.
3. Normcore nails
Although this isn't a seasonal trend per se (and one we've reported on before for the best nail trends of 2023), it's showing no sign of slowing down anytime soon. The 'your nails but better' trend is one that works year-round for every person, skin tone and nail type or length. Nailing this trend lies in choosing the perfect hue. "This trend is great for those who need a softer intro into an autumn manicure," explains Tinu.
"Pick a sheer nude shade that complements your skin tone; warmer tones should look for peachier shades," Keely explains. She recommends opting for Biosculpture's Sweet Candy Breath, available in both nail polish and gel polish. Plus, it's what Sophia Richie Grainge wore on her wedding day, so is a sure winner. For cooler tones, Keely loves Dior's Nail Glow to "instantly transform nails". Tinu recommends the Mylee Builder Gel with some jewels from the Mylee Be Jewelled Nail Art Kit for an elevated look.
4. Rich metallics
Metallics are set to be big this season according to nail artist and content creator, Mutsa M, Daisy Kalnina, founder & CEO of The Gel Bottle, and Alex. We're talking: "stand-out-from-the-crowd copper tones, mermaid blue nails and deep crimson tips that will set your world on fire", Daisy says.
Mutsa is looking forward to wearing rich metallics, notably brown and copper chrome. Alex notes the same: "Burnished bronze and copper shimmers will be a perfect option for those wanting to elevate their favourite teddy bear brown mani this autumn. The colour shift in the pearlescence of brown shimmer polishes provides a lovely warmth that can't be achieved with a regular, flat brown."
To get a true chrome effect, visit your nail tech who can use special powders for this—like The Gel Bottle's new chrome pigments, for example Blonde Chrome Pigment or Mirror Chrome Studio Gel. If you're experimenting at home, we recommend nail polish shades like Beauty Pie's Wondercolour in Amulet. Mutsa loves Natella Brown from Telle Moi and Bootlegger from Mooncat. Alex loves Nailberry's Stargazer to nail this trend at home.
5. Shorter lengths
Now, this isn't a specific trend, but it's something manicurist Iram Shelton notices come autumn. "It's a time where people are focused more on nail health after the summer," she says. "I would always recommend applying a nail treatment to your nails regularly to maintain them; keeping them strong and healthy," Iram says.
For maintenance, Iram recommends OPI Repair Mode Serum to help protect nails against breakage. "If you're someone who is starting out their natural nail journey then this paired with OPI Nail Envy is something I would highly recommend—you can thank me later," she says.
6. Autumnal tortoiseshell
One of the best trends of the season comes from celebrity manicurist, Stephanie Staunton. "I've been doing lots of cat eye nails under sheer orange, earthy, rust shades," she says. Her favourite is doing this to create a classic tortoiseshell nail with a cat eye twist on the base.
Layering textures and colours like this creates a set that changes with different angles and lights. This is definitely one to leave to your nail tech because it requires special products and an expert eye, however you can use layers of metallics and diluted polish to create a similar impact.
7. Sapphire
Blue has been big all year and it's still going strong, but Mutsa reimagines it for autumn with a beautiful twist. "I'm excited to dig out my jewel tones and play around with dark, yet vibrant shades in nail art," she says. Take Prussian Blue by Peacci, which gives the rich hue a slight shimmer. Or, to dial up the glitzy effect, use a sparkly top coat like Alûstre's 026R Top Coat.
8. Tomato red
If deep reds aren't for you, try a tomato red. "Ferragamo, Bottega Venetta and Lanvin are just a few designers who set the catwalk alight with fiery fearless red," says Tinu. "The reason I love this trend is because red can work for every skin tone and really make a statement when the season usually takes on darker tones," she adds. Her favourites include Mylee's As Red As It Gets or Piping Hot. We also love nail-tech favourite, Biosculpture's Pillar Box for this trend, too.