Jennifer Lopez just proved that this classic haircut is cooler than ever
Brb, off to the hairdressers.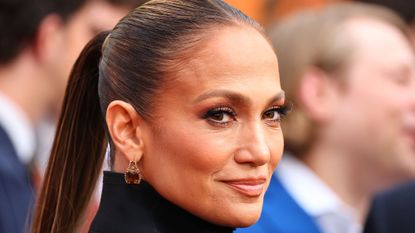 (Image credit: Getty Images Photo by Leon Bennett WireImage 1498057945)
If you've been on Instagram lately, then you may have seen Jennifer Lopez rocking a new hairstyle. Forget your slicked-back bun, as the star has gone for a classic fringe, and it's safe to say that we are obsessed.
Taking to social media, Lopez shared a picture of her new choppy style, which featured subtle blonde highlights to frame the face. She captioned the pic, "Bang bang #thisismenow" and credited her hair stylist, Lorenzo Martin.
It's no secret that fringe hairstyles have been around for years, but we are loving Lopez's fresh take, and it's got us in the mood to book a trip to the hairdressers ASAP.
However, before taking the plunge and giving it a go, we caught up with the team at Gielly Green, to get the full lowdown on the classic hairstyle. Keep on scrolling for everything you need to know, and make sure to check out our guide to the latest hair trends here. If you're wanting to upgrade your hair colour, the 'Scandi hairline' trend might be the one for you.
Does a fringe work for all face shapes?
First things first, we were curious to know whether a fringe works for all face shapes. According to Michele Antigua, Signature Colourist and Stylist at Gielly Green, you can make a fringe work for you by adjusting the shape, texture and length.
"Usually, fringes suit oval and triangular faces better compared to round or square faces," says Antigua. "However, a longer fringe that opens up a little in the middle and is longer on the sides can create a beautiful vertical illusion to make a round face much more oval."
We recommend talking to your hairdresser before trying a fringe to see what they think will suit you best.
How often do you need to get a fringe trimmed?
Once you have your new fringe, you might be wondering how often you will need to get it trimmed. "For shorter fringes, you will probably need a trim every three to four weeks," explains Antigua. "Longer fringes can get away with every six to eight weeks."
However, some fringes can be cut in a way that when they are growing out, they will naturally give that curtain bangs look, and Antigua recommends going for this style if you don't want to have to get trims as often.
How to style a fringe
We don't know about you, but our hairdressers always styles our fringes perfectly, and we can never seem to recreate it when we get home. Antigua recommends using a round brush and blow drying the hair from the root for that 'just left the salon' look.
"I would also use a volumizing foam on thin or fine hair, and a smoothing balm if you struggle with flyaways," says Antigua. "It's best not to use a serum as it may make your fringe look oily."
Different types of fringe hairstyles
Did you know that there are lots of different fringe hairstyles to choose from? According to Skye Edwards, Artistic Director at Gielly Green, there are two specific styles that are making a comeback.
"We are seeing a lot of 'French' fringes at the moment," explains Edwards. "These fringes are shorter at the parting and longer towards the cheekbones, so can work whether you have a middle or side parting. They suit the majority of face shapes and hair types.
Similar to this, we are also seeing a rise in side sweep curtain bangs. Again, these fringes are cut shorter by the parting and longer towards the cheekbones, but are slightly longer than the other style. They are also more effortless, which makes styling them much easier."
If you're looking for some inspiration, we've pulled together some of our favourite celebrity fringe hairstyles for you to have a look at, and they are seriously chic.
1. Taylor Swift
No one does a fringe better than Taylor Swift.
2. Rihanna
We're bookmarking this hairstyle ASAP.
3. Alexa Chung
A 'French' fringe at its finest.
4. Sienna Miller
Sienna Miller's curtain bangs are hair goals.
5. Olivia Wilde
Who knew that adding a subtle curl to your fringe could look so good?
6. Kelly Rowland
Curtain bangs and a long bob just scream sophistication.
7. Anne Hathaway
Can Anne Hathaway do no wrong?
8. Emma Stone
This side fringe is such a fun take on the classic style.
9. Zooey Deschanel
If you like to wear your hair up, then this might be the hairstyle for you.
10. Halle Berry
Tousled waves are the way to go for a relaxed fringe.
11. Zendaya
Perfection.
Celebrity news, beauty, fashion advice, and fascinating features, delivered straight to your inbox!
Grace Lindsay is currently Junior Beauty Editor at Who What Wear UK and previously was Marie Claire UK's E-Commerce Writer. With over three years of experience in the fashion and beauty industry, she covers everything from the best make-up and skincare deals to how to shop the stand out trends of the season. When she's not typing away at her laptop, Grace can be found shopping her favourite vintage markets IRL, or catching up on her never-ending list of books to read.