It's official: Kate Middleton and Prince William are moving to Windsor and George, Charlotte and Louis have a new school
There are some big changes ahead.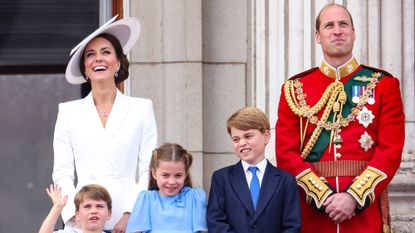 There are some big changes ahead.
After months of speculation by royal commentators, fans and reporters, Kensington Palace have finally confirmed that a move is on the cards for the Duke and Duchess of Cambridge. The royal couple, along with their three children, will be moving to Adelaide Cottage in Windsor.
But the changes don't end there. Prince George, Princess Charlotte and Prince Louis are also moving schools and are set to start afresh at the Lambrook School in Berkshire in September.
The news comes as Kate Middleton, along with her youngest children: seven-year-old Princess Charlotte and four-year-old Prince Louis, were spotted disembarking from an economy flight to Scotland. It's believed that they were heading to Balmoral to spend time with the Queen and would be joining Prince William and Prince George, who had travelled separately from the trio.
In the statement released by Kensington Palace, the headmaster at Lambrook School, Jonathan Perry said he was "delighted" that the Cambridge children would joining the school and that he was looking forward to welcoming the family to the school community.
Rumours had been swirling for some time now that the Duke and Duchess of Cambridge were eyeing up a move away from central London and their Kensington Palace residence. Formerly, nine-year-old Prince George and seven-year-old Princess Charlotte were pupils at the Thomas's Battersea prep school.
Reporting on the news, the BBC commented that friends of the royal couple had described the move as a 'new chapter' in 'an attempt to ensure as normal an upbringing as possible for their three children.'
The public broadcaster also highlighted the closeness of their new home to the Queen's residence at Windsor Castle (it's just a 10-minute walk, apparently). They state that it shows the "strength and importance" of the relationship between the 96-year-old monarch and her grandson, Prince William.
As well as Adelaide Cottage being a stone's throw away from the Queen's home, it's also just an hour's drive from Kate's parents, Carole and Michael Middleton in Bucklebury.
There's also been a lot of comment on how the Cambridges' new house is much less grand than their current Kensington Palace apartment, with just four bedrooms. This means they will have no live-in staff, with Princess Charlotte and Prince Louis not having a live-in nanny for the first time in their lives.
With all of these big changes ahead, it's set to be a busy and exciting time for the family. Best of luck for the move!
Celebrity news, beauty, fashion advice, and fascinating features, delivered straight to your inbox!
Amy Sedghi is a freelance journalist, specialising in health and fitness, travel, beauty, sustainability and cycling.
Having started her career in The Guardian newsroom working with an award-winning team, Amy's proud to have reported on a variety of topics, speaking to a range of voices and travelling far and wide to do so. From interviews on ski lifts to writing up breaking stories outside courtrooms, Amy is used to reporting from a range of locations (she's even been known to type up a story in a tent).
She also loves being active, spending time outdoors and travelling - with some of her favourite features she's worked on combining all three. Cycling and eating her way round the Isle of Man, learning to sail on the Côte d'Azur and traversing the Caminito del Rey path in Spain are just some of her highlights.
Covering a diverse range of subjects appeals to Amy. One minute she may be writing about her online styling session with Katie Holmes' stylist and the next she's transporting readers to the basketball courts of Haringey where she joined a group trying to lower knife crime in the capital.
While at university, Amy was awarded The Media Society bursary. Following her stint at the Guardian, Amy worked at Google and as well as writing for Marie Claire, she regularly contributes interviews, features and articles to National Geographic Traveller, The Guardian, The Independent, The Telegraph, Stylist, Refinery29, Glorious Sport, Cycling Weekly and Rouleur.
When she's not writing, Amy can be found trying to get through her towering stack of books-to-read, cycling down at Herne Hill Velodrome or looking for the next place to eat and drink with friends.