Kate Middleton's portrait of Prince George for his ninth birthday is pretty sweet
Happy birthday Prince George!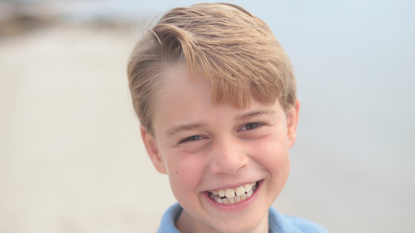 Happy birthday Prince George!
Prince George is celebrating his ninth birthday today, and for the occasion, an official portrait has been released.
Taken by his mother, the Duchess of Cambridge, it's a sweet image of the prince smiling on a beach. Kate captured the image of her son during a family holiday in the UK earlier this month.
In the photograph, Prince George can be seen in a pale blue shirt, grinning with an out of focus background showing a sandy beach.
Kensington Palace said the Duke and Duchess of Cambridge were "delighted" to share the happy image with the public.
The Cambridges are believed to be on holiday currently - possibly in Mustique. The private island in the islands of St Vincent and the Grenadines has long been a favourite of the Duke and Duchess of Cambridge.
On their last visit to the island in 2019, they celebrated Prince George's sixth birthday there.
Kate, who often takes the portraits of her children that are shared on their birthdays, is well known for having a love of photography.
She even photographed the Duchess of Cornwall for the front cover of Country Life, and was praised by Camilla for her "extremely good" photography skills.
In a video released by ITV news, Camilla said of the experience: "We had a lot of fun. It was very relaxed. It was very kind the Duchess of Cambridge came with her camera, she's an extremely good photographer."
Kensington Palace also released portraits taken by the Duchess of Cambridge of Prince Louis and Princess Charlotte on their birthdays earlier this year.
In the image of Louis, the four-year-old can be seen playing on the beach, while the images of seven-year-old Charlotte were taken at their family home at Anmer Hall, in Norfolk.
In one adorable snap, Princess Charlotte is grinning as she wraps her arm around the family dog, a black spaniel named Orla.
Kate is said to have inherited her love of photography from her grandpa who apparently was also very good behind the camera.
Claudia Acott Williams, curator at Historic Royal Palaces, told the Express: "When she was a child, he would show her his slides. It was him who taught her how to take photographs."
Celebrity news, beauty, fashion advice, and fascinating features, delivered straight to your inbox!
Amy Sedghi is a freelance journalist, specialising in health and fitness, travel, beauty, sustainability and cycling.
Having started her career in The Guardian newsroom working with an award-winning team, Amy's proud to have reported on a variety of topics, speaking to a range of voices and travelling far and wide to do so. From interviews on ski lifts to writing up breaking stories outside courtrooms, Amy is used to reporting from a range of locations (she's even been known to type up a story in a tent).
She also loves being active, spending time outdoors and travelling - with some of her favourite features she's worked on combining all three. Cycling and eating her way round the Isle of Man, learning to sail on the Côte d'Azur and traversing the Caminito del Rey path in Spain are just some of her highlights.
Covering a diverse range of subjects appeals to Amy. One minute she may be writing about her online styling session with Katie Holmes' stylist and the next she's transporting readers to the basketball courts of Haringey where she joined a group trying to lower knife crime in the capital.
While at university, Amy was awarded The Media Society bursary. Following her stint at the Guardian, Amy worked at Google and as well as writing for Marie Claire, she regularly contributes interviews, features and articles to National Geographic Traveller, The Guardian, The Independent, The Telegraph, Stylist, Refinery29, Glorious Sport, Cycling Weekly and Rouleur.
When she's not writing, Amy can be found trying to get through her towering stack of books-to-read, cycling down at Herne Hill Velodrome or looking for the next place to eat and drink with friends.