Prince William and Kate Middleton's summer holiday plans sound extremely luxurious
Of course it involves a private island...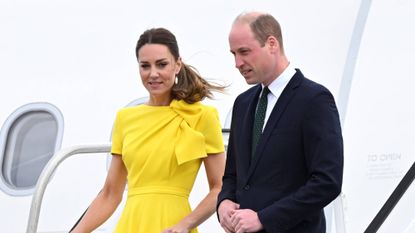 Of course it involves a private island...
If you're yet to book a holiday or are sick of your pals and colleagues' sun-drenched pics flooding your Instagram feed, then you might want to look away now. Because, Prince William and Kate Middleton's reported holiday plans sound pretty damn luxurious.
A stay with the children on the private Caribbean island of Mustique is most likely on the cards, royal expert, Ingrid Seward has predicted.
It's reported that the Duke and Duchess of Cambridge are keen to go back to the island having not been there since 2019 due to the Covid-19 pandemic. But, what is it about this location -apart from the pristine beaches and stunning views - that the royals love so much?
A private island, Mustique lies in the in the islands of St Vincent and the Grenadines. It's long been a favourite of the Duke and Duchess of Cambridge and on their last visit to the island, they celebrated Prince George's sixth birthday there.
Known for its white sandy beaches - as well as the wealthy clientele it attracts - Mustique was also a favourite of the late Princess Margaret, who called the location "the only place I can relax."
Seward points to the no fly zone, which affords the Cambridges - and other high-profile figures staying on the island - the privacy they seek on their holidays.
Mick Jagger, Tommy Hilfiger and Bryan Adams are among the celebrities reported to own homes on the 14,000-acre island.
Guests wanting to visit the luxurious island have to fly first to either Barbados, St Lucia or St Vincent, before boarding a Twin Otter flight to Mustique.
Accommodation isn't cheap either, with monied guests taking their pick between renting one of the 80-plus luxury villas on the island or taking up a suite or cottage at the only hotel on Mustique, The Cotton House.
A night in a two-occupancy 'cottage' - described as "in colonial Caribbean style" with a king size bed, dressing room, ensuite bathroom with walk in shower, a large veranda and garden views at the hotel will set guests back $600 in August.
As well as a sunny beach holiday, the Cambridges are also expected to spend the August bank holiday weekend at Balmoral visiting the Queen.
The Queen's Scottish estate is "absolute paradise for children" Seward told The Sun, listing off the activities that Prince George, Princess Charlotte and Prince Louis may get up to. Swimming, fishing, riding fell and Shetland ponies and picnics are on the menu.
"George might even go rabbit and grouse shooting with William," claims Seward."All the kids love it up there because they have picnics every day and sometimes at night they have family barbecues, which were always a favourite of Prince Philip. And kids don't care about the midges and the rain."
Celebrity news, beauty, fashion advice, and fascinating features, delivered straight to your inbox!
Amy Sedghi is a freelance journalist, specialising in health and fitness, travel, beauty, sustainability and cycling.
Having started her career in The Guardian newsroom working with an award-winning team, Amy's proud to have reported on a variety of topics, speaking to a range of voices and travelling far and wide to do so. From interviews on ski lifts to writing up breaking stories outside courtrooms, Amy is used to reporting from a range of locations (she's even been known to type up a story in a tent).
She also loves being active, spending time outdoors and travelling - with some of her favourite features she's worked on combining all three. Cycling and eating her way round the Isle of Man, learning to sail on the Côte d'Azur and traversing the Caminito del Rey path in Spain are just some of her highlights.
Covering a diverse range of subjects appeals to Amy. One minute she may be writing about her online styling session with Katie Holmes' stylist and the next she's transporting readers to the basketball courts of Haringey where she joined a group trying to lower knife crime in the capital.
While at university, Amy was awarded The Media Society bursary. Following her stint at the Guardian, Amy worked at Google and as well as writing for Marie Claire, she regularly contributes interviews, features and articles to National Geographic Traveller, The Guardian, The Independent, The Telegraph, Stylist, Refinery29, Glorious Sport, Cycling Weekly and Rouleur.
When she's not writing, Amy can be found trying to get through her towering stack of books-to-read, cycling down at Herne Hill Velodrome or looking for the next place to eat and drink with friends.