Greggs cater for Queen's royal party
High street bakers Greggs are to serve up food to the Royal at the Carers' Day garden party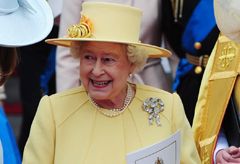 (Image credit: Rex Features)
High street bakers Greggs are to serve up food to the Royal at the Carers' Day garden party
We hope the Queen is partial to a sausage roll or two, as it has been revealed that high street bakers Greggs will be providing much of the catering for the Carers' Day garden party hosted for Her Royal Majesty on 22 June.
The summer party will be held in the grounds of Alnwick castle, in Northumberland on Wednesday, and the caterers, renowned for their pastry goods, will be on hand to serve some hearty alternatives to the cucumber sandwich.
The event, which is expecting around 8000 guests, including England footballer Alan Shearer, is an opportunity for the Queen and her husband the Duke of Edinburgh to meet and talk with several carers and volunteers from different organisations from around the UK.
'The idea is for the Queen to meet as many people as possible,' said castle spokesman Andy Farquharson.
The host of the big day, Lady Jane Percy, the Duchess of Northumberland, has revealed, though, the amount of work gone into organising such an important occasion. 'It has been quite something to plan and arrange this even, particularly in a year of some national uncertainty financially.'
However, Greggs, who were founded in 1939 and now sell over 140 million sausage rolls annually, were able to step in and lend a helping hand. '(Their) huge contribution and support of local business, means the event will not cost the county council any money,' she affirmed.
The Newcastle-based company are excited to be included in the big day, 'We're delighted to be involved. We hope everyone enjoys what will be a very special event,' said Greggs Chief Executive Ken McMeikan.
Celebrity news, beauty, fashion advice, and fascinating features, delivered straight to your inbox!
Natalia is a health journalist with 14 years experience in the publishing industry. She has worked for a number of well known magazines and websites including Marie Claire, Woman&Home, Top Sante, Boots and The Telegraph. She likes to think she practices what she preaches when it comes to health and fitness. Her athletic prowess began early. A keen fencer for 13 years, she wielded an epée for Olympic Team GB during her teenage years. She likes to think she made sword-fighting cool before Game of Thrones came along! While working on her sporting performance with the team, she also participated in a lot of nutrition and psychology training, When it comes to time off, you'll most likely find her up a mountain somewhere. It seems holidays have become a time for climbing several thousand feet, rather than chilling out. She's now hiked eight of the major mountain ranges across four continents – including the Appalachians, the Smokies, the Sierra Nevadas (she spent her honeymoon hiking to the top of Half Dome), as well as hitting the summits of Snowdon, Pen-Y-Fan (Brecon Beacons), Table Mountain in South Africa, the Blue Mountains in Australia and the Atlas Mountains in Morocco. She's also passionate about all things health, particularly vaccinations, and will happily jump on her soap box at any given opportunity to talk about their benefits to anyone who will listen!