The Must-See Moments From Peter Copping's Oscar De La Renta Debut
From Taylor Swift and Karlie Kloss on the front row, to Kendall Jenner's uptown makeover, see all the pictures from the Oscar De La Renta AW15 fashion show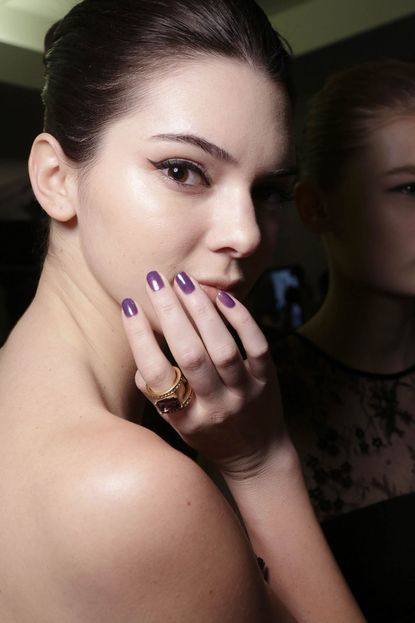 (Image credit: Imaxtree)
From Taylor Swift and Karlie Kloss on the front row, to Kendall Jenner's uptown makeover, see all the pictures from the Oscar De La Renta AW15 fashion show
Four months on from Oscar de la Renta's sad passing, Peter Copping presented an outstanding debut collection for the house last night. All of the label's loyal fans came out in force to remember, support and celebrate, as former Nina Ricci designer Copping (originally appointed to work alongside Oscar) stepped up to honour his legacy and help the brand start looking to the future.
BFFs Taylor Swift and Karlie Kloss (both loyal supporters of the late designer's work) sat front row, while on the catwalk Kendall Jenner got a gorgeous uptown makeover. Here's what you need to know about the NYFW show everyone is talking about...
Peter Copping Made A Perfect Debut Taking the helm of one of America's most celebrated fashion houses, the former Nina Ricci designer must have been pretty terrified. 'I am immensely proud to have been chosen as the creative director of Oscar de la Renta,' he wrote in his show notes. 'Unfortunately things did not go according to our plans and I never had the chance to work with Oscar, which is something I deeply regret. In this, my first collection, I hope to honour Oscar's legacy and also to start a new chapter for the house.' Judging by the post-show applause, it's clear that the house is in safe hands.
Taylor Swift And Karlie Kloss Joined Forces Karlie, one of the late designer's favourite models and closest confidantes in the industry, decided to watch from the sidelines with the support of BFF Taylor, rather than walk in the show last night.
'It was an honour to attend the Oscar de la Renta show yesterday evening,' Karlie said on Instagram. 'While it was a new and emotional experience to watch Oscar's show and not walk it for the first time since I was 16, I couldn't help but feel like he was right there in the room. Peter's collection was stunning and a true celebration of Oscar's beautiful legacy. He is truly missed.'
'I felt very lucky to be at the Oscar de la Renta show today,' Taylor added. 'It was comforting to be in a room of people who miss him as much as I do, and will continue to celebrate his legacy for years to come.'
Kendall Jenner Was A Classic Hollywood Beauty Oscar de la Renta is synonymous with old glamour and Kendall's plum finale gown oozed with the house's trademark codes. With an established clientele that includes Manhattan's more mature ladies (the late designer's wife sat with Nancy Kissinger and Barbara Walters on the front row) as well as new fans, Copping successfully catered to everyone in this wide audience. See all the pictures of Kendall getting ready in the gallery above.
There Were Plenty Of Oscar-Worthy Gowns It was a collection that Mr de la Renta himself would be proud of, not to mention that there were enough red carpet-ready dresses to clad every starlet in attendance at the Oscars this Sunday. We can totally see Emma Stone rocking the below feather confection.
See every single look from the Oscar de la Renta Autumn 2015 fashion show in the gallery above.
Celebrity news, beauty, fashion advice, and fascinating features, delivered straight to your inbox!