Prince George Makes Sales Of Crocs Explode And Is Declared A Toddler Shoe Icon. But Of Course...
The 'Prince George effect' is now officially a thing...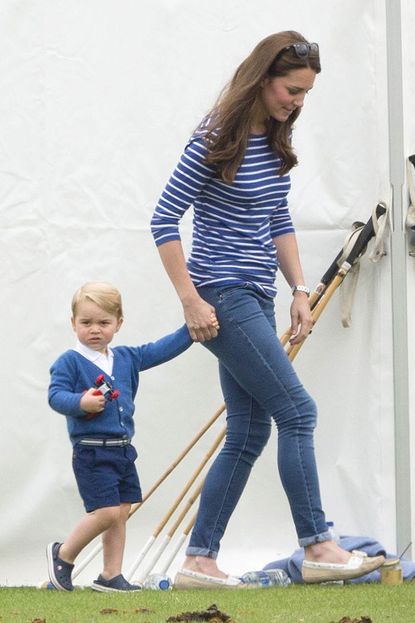 (Image credit: Tim Rooke/REX Shutterstock)
The 'Prince George effect' is now officially a thing...
The 'Prince George effect' is now officially a thing.
Since toddling out in a pair of Baby Crocs at the polo two weeks ago, George's fashion influence has seen sales of the rubbery clogs spike by 1500%. As in 1500%.
Yes, we once shuddered at the concept of Crocs, the fugliest shoe to grace our stylish planet. But it's amazing what being spotted on a mini prince can do for a brand's fashion rep.
'Once again, Prince George proves there's no age limit on being a fashion icon,' Amazon.co.uk's Daniel Silverfield told Women's Wear Daily of the incredible increase in sales of the £34.94 kids' shoes.
'We've seen a 16-fold increase in sales of kids' Crocband shoes at Amazon.co.uk since the photo of him wearing a pair was released.'
We all know about 'the Kate Middleton effect'- the Duchess' ability to make any frock a sell-out is very, very well documented. But the Prince George effect?
Other brands to experience big boosts when our future king wore their clothes include Cath Kidston and Aden & Anais (yes even his swaddle blanket was a sell-out).
'There is no question that Kate choosing to wear Reiss has impacted our brand,' Reiss founder David Reiss once told us of the Duchess Of Cambridge's direct influence on fashion sales. When she wore the brand's Shola dress to meet the Obamas in 2011 the effect was instant. 'The surge in web traffic following the release of the images caused our website to crash and the dress promptly sold out online when service was resumed.'
While George's efforts to break the fashion internet are so far impressive, we suspect that it won't be long before his little sister Princess Charlotte gets in on the act too.
Celebrity news, beauty, fashion advice, and fascinating features, delivered straight to your inbox!