Henry Holland Talks Us Through His SS15 Retro Disco Collection
The story of House Of Holland's SS15 collection, by numbers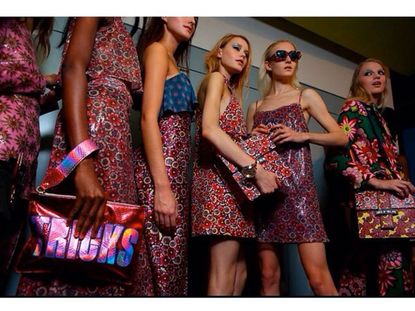 The story of House Of Holland's SS15 collection, by numbers
Henry Holland offered the ultimate ode to 70s rock groupies last night, with a collection of flares, foils and florals to make any GTO girl proud. Saturday Night Fever, indeed. Here, the man himself helps us break down the numbers…
3 Old-School Rock References 'Jimi Hendrix was the key reference on my moodboard – I also had lots of pictures of legendary groupies like the GTOs and Cynthia the plaster caster.' (Google that last one, she's a babe). Fashion translation? A lot of disco-ready lame, shimmery snakeskin and rainbow foil accessories. 'She is a confident, sassy groupie girl who knows how to get what she wants. She is with the band,' Henry told us backstage.
36 Retro Chick Models Flares are back, declares Henry. 'There had to be flares, that was my woman. She rocks a flare. They were lower cut because I didn't want to do mum flares - this girl is way cooler. She's getting out that midriff and she ain't afraid to show it.' Another note-worthy throwback that we weren't expecting to ever see again? Pop socks.
40 Vintage Marshall Speakers The set was a rocker's paradise. Purple Haze blasted from the stacks of retro speakers, as bright stage lights made everything look even more dazzling. Even the invitation took the form of an old LP.
13 Front Row Bessies We spotted Alexa Chung, Pixie Geldof, Daisy Lowe, MIA… every House Of Holland groupie wants a ticket to Henry's gig.
Infinite Hours Of Embellishment 'Some pieces took a really long time to embellish,' Henry explained to us. 'It's a real toss-up between the A line skirt, the orange dress and the crop t-shirt as to which took the longest.' We're particularly keen on that amazing floral mini, weighed down with a blitz of badges and beading. And (as Henry's mum quite rightly points out to us post-show!) his party-girl clientele wouldn't even need to iron it.
Celebrity news, beauty, fashion advice, and fascinating features, delivered straight to your inbox!