Cara Delevingne told playing Victoria Beckham in Spice Girls musical would kill her career
The model-of-the-moment was advised against playing the pop star in the Viva Forever! musical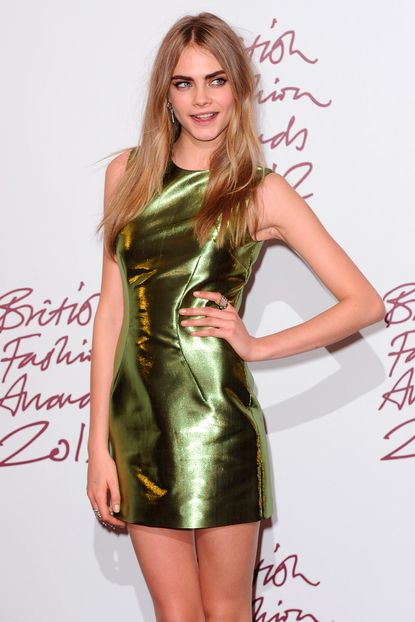 (Image credit: Rex Features)
The model-of-the-moment was advised against playing the pop star in the Viva Forever! musical
She's the model-of-the-moment with the fashion world at her feet and aspirations to make it in Hollywood, yet Cara Delevingne turned down the chance to hit the stage as Victoria Beckham in the upcoming Spice Girls musical because it would be a 'career killer'.
The thick-browed 20-year-old, who topped off a triumphant 2012 by scooping Model of the Year at the British Fashion Awards on Tuesday night, was reportedly offered the part of playing the pop star-turned-designer in her Spice Girls heyday in the upcoming Viva Forever! show, but was advised not to take the role by her agent for fear of her damaging her image.
WATCH: WE TALK TO CARA DELEVINGNE AT THE BRITISH FASHION AWARDS
The budding actress told The Telegraph: 'My agent said, 'No, you can't, it will be a career killer.' Of course, I loved the Spice Girls. I loved Geri and Baby, but who liked Posh Spice? They said I looked like her and I said, 'That's not cool, that's really mean.' '
Hmm, can't say we see the resemblance either. Despite turning down the acting role, Cara, who is currently the face of fashion big hitters Burberry and Chanel, still has dreams of replicating her modelling success in Hollywood. Earlier this year, she had a small role in the big screen adaptation of Anna Karenina, co-starring Keira Knightley and Aaron Taylor-Johnson, and hopes to carry on auditioning for films next year to pursue her 'dream' career in acting.
What do you think about Cara turning her hand to acting? Do you think she would be any good? And should she have gone for the Victoria Beckham musical role? Tell us your thoughts in the comments box below...
SEE PICS OF CARA DELEVINGNE AT THE BRITISH FASHION AWARDS 2012
Celebrity news, beauty, fashion advice, and fascinating features, delivered straight to your inbox!