WATCH! Mariah Carey takes a tumble on stage
The star fell during a performance of Make It Happen, and then summoned an assistant to remove her towering heels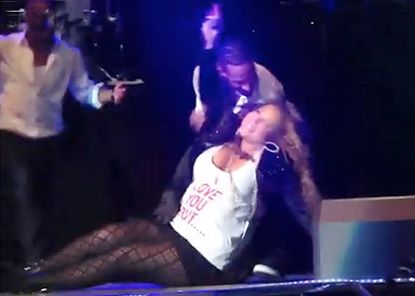 The star fell during a performance of Make It Happen, and then summoned an assistant to remove her towering heels
She's known for being a diva, but yesterday Mariah Carey proved the show must go on, continuing her performance after falling down flat in front of thousands, during a live show in Singapore.
BEST DRESSED CELEBRITY BABY BUMPS
The star was performing hit Make It Happen at a Formula One event when she took a tumble, and ended up lying flat out on the stage.
Three burly backing dancers immediately rushed to help the star – who has ignited pregnancy rumous over her recent weight gain – lifting her back on her feet.
But far from storming off stage after the embarrassing – and quite hilarious – incident, Mimi joked: 'I meant to do that', before summoning an assistant to remove her towering heels.
'Someone come out here and take these shoes off,' she said into her microphone. 'I'm going to do the rest of the show barefoot.'
An assistant quickly rushed out, handing Mariah a bottle of water, before being shooed away by the star who pointed at her feet.
Luckily a team of helpers then arrived to remove the eye-wateringly high footwear, and to her credit, Ms Carey carried on singing the whole time.
Rumours have been rife that the super songstress is expecting her first child with hubby Nick Cannon, after she's been spotted out sporting a little more weight than usual.
Maria took to the stage for a concert in Brazil last month showing off her ballooning figure in a giant black ballgown, with a skirt big enough to hide a blossoming baby bump.
But the diva has kept quiet on any impending baby news, releasing a statement via her publicist Cindi Berger, which read: 'I appreciate everyone's well wishes but I am very superstitious. When the time is right, everyone will know - even Cindi Berger.'
READ THE LATEST MARIAH PREGNANCY RUMOURS HERE!
Celebrity news, beauty, fashion advice, and fascinating features, delivered straight to your inbox!