PICS! Amanda Seyfried's raunchy red riding hood role
Little Red Riding Hood's had a Hollywood makeover, in a sizzling version of the fairytale, by Twilight director Catherine Hardwick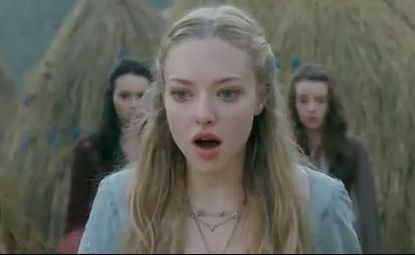 Little Red Riding Hood's had a Hollywood makeover, in a sizzling version of the fairytale, by Twilight director Catherine Hardwick
Little Red Riding Hood's had a Hollywood makeover. Letter's to Juliet beauty Amanda Seyfried stars in a raunchy new version of the fairytale – produced by Twilight director Catherine Hardwick – and now we've got our hands on the very first sizzling pictures.
Miss Seyfried well and truly steals the scene as hooded character Valerie in the moody medieval flick, set in a dark gothic village.
Things get more than a little steamy when she falls for smoldering village worker Peter, but as the pair try to run away together the village falls victim to a werewolf. Creepy.
And there are some seriously cool scenes in store, according to Amanda.
'Red Riding Hood is a classic fairy tale that we all know, and what fans can expect from this version of the story is that it's basically just a jumping-off point,' she revealed of the flick,' she says.
'Catherine Hardwicke has just completely turned this story into something edgy and gothic and dark, and she's clearly somebody that's very capable of turning something, everything into an extraordinary world, as we've seen before.'
We'll be queuing up for this one.
Red Riding Hood hits screens in March next year.
What are your thoughts on Red Riding Hood's Hollywood makeover? Let us know in the comments box below.
Celebrity news, beauty, fashion advice, and fascinating features, delivered straight to your inbox!