Meghan Markle and Prince Harry's cutest moments from their royal tour
That umbrella picture though!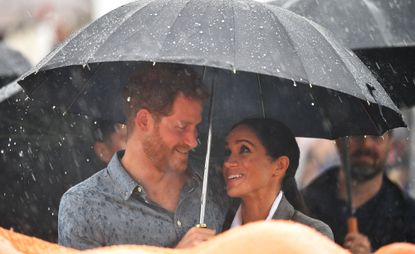 (Image credit: Tim Rooke/REX/Shutterstock)
That umbrella picture though!
The royal tour is officially off to a great start and even though we're only a few days in, it's delivered for any stans of the Duke and Duchess of Sussex. There's been a few total movie moments so far and the latest one melted the internet's hearts: namely, when they shared an umbrella in the pouring rain as they stared deeply into one another's eyes. Their PDA is off the charts and with a couple more weeks to go of the royal tour, we don't know if our hearts are going to be able to take it.
We've put together a gallery of Meghan Markle and Prince Harry's cutest moments over the royal tour, which will have you believing in true love. We're just going to take a minute, we're feeling a little emotional RN.
Meghan Markle and Prince Harry Umbrella Moment
Does anybody else hear Rihanna's Umbrella? This super cute Meghan Markle and Prince Harry umbrella picture on the third day of their tour quickly went viral. Get you a man who looks at you the same way Prince Harry does.
Meghan also kindly held the brolly over their heads as he delivered a speech, which is just supportive couple goals AF.
Meghan Markle and Prince Harry Hug
After Meghan Markle and Prince Harry met little Luke Vincent, their cute encounter melted hearts all over the world. Five year old Luke tottered over to greet them hello, handed them a couple of bouquets and gave both the Duke and Duchess the biggest hugs.
Nicholas Dole, a journalist for ABC news, caught the adorable moment on camera and you can see it below.
He also snuck in a cheeky beard scratch and patted Prince Harry's head. The principal of his school revealed to The Daily Mail Harry's facial foliage because reminded Luke of his favourite person: good ol' Saint Nick.
She said, '[Luke] got a hug from Meghan and then Harry bent down to speak to him and Luke didn't give him any choice! Luke's favourite person in the world is Santa Claus, who has a beard. So he rubbed Harry's beard.'
Given that Meghan Markle's pregnancy was announced on literally day one of their tour, their Aussie hosts hopped to it and made sure their little one would have some appropriate gifts. Harry's face is literally everything.
Prince Harry with His Biggest Fan
Back in 2015, Prince Harry met Daphne Dunne — his biggest Australian fan. Photos of him laughing with the nonagenarian quickly spread and it was the sweetest thing ever, so it only makes sense that they'd reconnect when he dropped in to town. They were reunited in Sydney and he introduced her to his next biggest fan, Meghan Markle.
Here's a photo of the first time Prince Harry and Daphne Dunne met, which will put the biggest smile on your face.
Meghan Markle and Prince Harry PDA
This royal tour has been a bounty of Markle x Harry PDA. The pair are just so lovely to watch together and their body language speaks miles about how in love they are with one another.
Whether it's a hand on a knee or instinctively reaching for one another's hands, they don't seem to be able to keep their hands off one another.
Prince Harry and Meghan Markle with Kids
Given that Meghan and Harry have a little one of their own on the way, it's been pretty heartwarming to see a glimpse of what they'd be like as parents. Prince Harry's always gotten on really well with children and the two of them are just dreamy to watch, stooping down to say hello with a big grin prepared.
One of the BEST moments of the tour IMO was when Prince Harry broke royal protocol for a young Meghan Markle lookalike. After spotting the little girl in the crowd proudly displaying a feminist tee which read 'Girls Can Do Anything', he waved the Duchess over to say hello.
After chatting with her and her family, he broke the royals' no selfie rule and helped take a picture of them all together. The moment was super heartwarming and the Instagram account @harry_meghan_updates captured it below:
Prince Harry and Meghan Markle on the Beach
Forget the engagement photoshoot. The photos of Meghan Markle and Prince Harry on South Melbourne Beach look straight out of a magazine. I need a poster ASAP.
Prince Harry and Meghan Markle Laughing
My momma always told me to marry a man who makes you laugh and these two have me believing her advice. The pair always seem to have time for a quick joke and a giggle.
Prince Harry and Meghan Markle with Animals
On literally day one, the Duke and Duchess of Sussex took the quintessential Australian tourist photo. The pair were introduced to a pair of koalas in Taronga Zoo, Ruby and her baby — who was named after the Duchess of Sussex.
They also said hello to this little guy, who really didn't seem all that thrilled to meet them.
Celebrity news, beauty, fashion advice, and fascinating features, delivered straight to your inbox!
Megan is a freelance journalist who covers entertainment and all things lifestyle, with a particular passion for fashion, beauty, travel and Keanu Reeves stories. She has previously worked on staff for titles including Marie Claire UK, CNN Style and The Evening Standard and has written for titles such as Bustle UK, Wallpaper*, Forbes and Hong Kong Tatler. She splits her time between London and her hometown Hong Kong, where she currently lives with the love of her life - an elderly dog named Poppy - and her husband.