Lady Gaga unveils Marry the Night teaser
Gaga has released a teaser clip for her longest video yet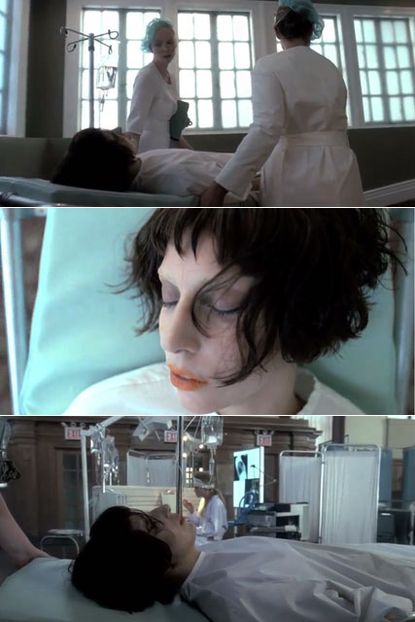 (Image credit: Rex)
Gaga has released a teaser clip for her longest video yet
Lady Gaga has released a teaser clip for her longest video yet - fifth single from the Born This Way album, Marry The Night.
LADY GAGA'S STYLE HIGHS AND LOWS The You & I singer posted the two minute prelude on Twitter immediately after her performance at Children In Need Rocks concert in Manchester last night.
Gaga tweeted, 'This will be the longest video I've released to date. The beginning of the story I never told you.'
The eerie video shows the songstress in a seemingly unconscious state, being pushed around on a medical trolley by two nurses in what looks like a hospital or a medical asylum.
There's no music in the teaser, but instead the video begins with a brunette Gaga narrating a monologue over the top of the clip.
In a peculiar voice Gaga says, 'I don't want to see things exactly as they happened. It's just that I prefer to remember them in an artistic way. And truthfully the lie of it all is much more honest, because I invented it.
'Clinical psychology tells us arguably that trauma is the ultimate killer. Memories are not recycled like atoms and particles in quantum physics. They can be lost forever.'
But of course it wouldn't be a Lady Gaga video without a reference to fashion. Lady G goes on to say, 'Those nurses are wearing next season Calvin Klein and so am I. And the shoes – custom Giuseppe Zanotti.'
And making a spring/summer 2012 fashion prediction the pop diva says, 'I also believe mint will be very big in fashion next spring.'
The teaser closes with the two nurses pushing Gaga through a creepy looking room, and leaving fans to wonder what's next.
While the release date for the video is still unknown, the singer promised fan: 'The full prelude is 7 min 33 seconds & 15 frames.'
Last month, Gaga was spotted shooting the video in various locations throughout New York, with the song itself being a tribute to the big apple, her hometown.
Watch the video teaser below and tell us what you think...
Celebrity news, beauty, fashion advice, and fascinating features, delivered straight to your inbox!