We Can't Not Look At The Kimye Circus At Paris Fashion Week
Kim Kardashian and Kanye West are causing khaos in Paris.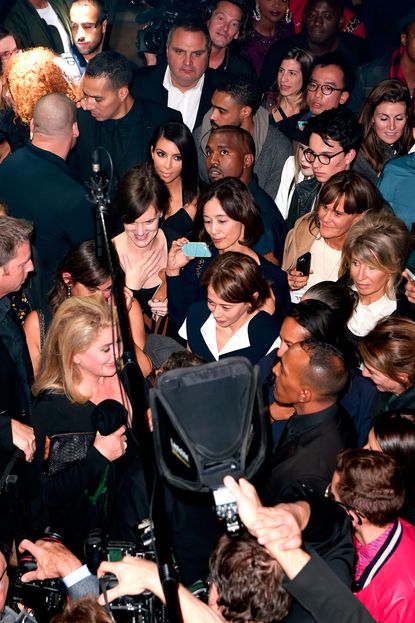 (Image credit: Rex)
Kim Kardashian and Kanye West are causing khaos in Paris.
Kim Kardashian and Kanye West are at Paris Fashion Week. We know you know this because the couple has all but brought the French city to a standstill and their every move is making (not quite) front page news.
So far, the paparazzi-baiting couple has sat frow at a plethora of shows, including Balenciaga, Lanvin and Balmain, where they (along with momager Kris Jenner) watched Kendall Jenner walk in the show.
The Kimye circus is one that we can't seem to take our eyes off. A particular highlight was the couple being snapped sporting matching cleavage as they cast their eyes over the Lanvin SS15 collection, resulting in a highly entertaining, albeit very childish, game of 'moob or boob' in the MC office.
And, at Balenciaga, they showed off 13-month-old daughter North West in front of the cameras as she made her fashion week debut wearing a leather midi skirt from the Kardashian Kids Kollection and a Yeezus top from Kanye's recent tour (one should never miss an opportunity to self promote, right?) Check out the gallery at the top of this page for all the photos.
But things took a turn for the even more ludicrous, when Kim K was accosted by Ukranian prankster Vitalii Sediuk, and general creep, Vitalii Sediuk, as she arrived at the Balmain show.
The TV trickster grabbed Kim by her ankles as she made her way through the crowds of Kimye-crazed fans causing her to trip and fall into the side of her car.
Being the pro she is, Kim shrugged it all off, regained her composure and managed to squeeze her A-list booty onto the frow in time for the show.
What khaos.
Celebrity news, beauty, fashion advice, and fascinating features, delivered straight to your inbox!