Kanye West Talks About Love, And Then Compares His Family To Astronauts. We Think.
Stop everything, Kanye West has given another great interview about love, life and living in space. Sort of.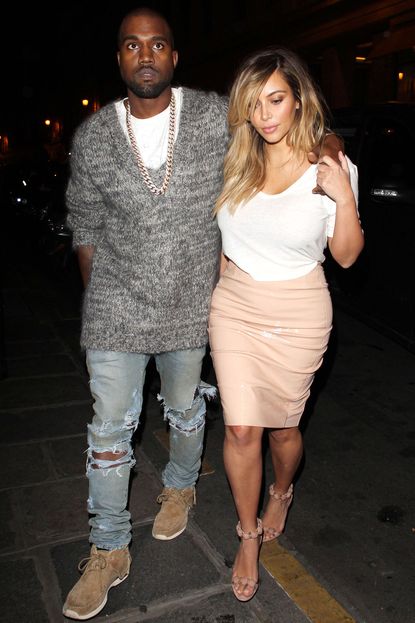 (Image credit: Rex)
Stop everything, Kanye West has given another great interview about love, life and living in space. Sort of.
Thought Kanye West had filled his quota of incredible quotes? Wrong. Kim Kardashian's husband-to-be has been sharing more memorable comments about life, love and, erm, living in space.
Sitting down with 12 Years a Slave director, Steve McQueen, Kanye offered out more mind-boggling comments to coincide with his cover of Interview magazine.
'You know, becoming famous is like being catapulted into space,' Kanye explained. 'Sometimes without a space suit. We've seen so many people combust, suffocate, get lost in all these different things.
'But to have an anchor of other astronauts and to make a little space family ... I mean, it's not like I'm the guy in The Hunger Games begging for people to like me. I'm almost the guy with the least amount of 'likes'. I wanted a family. So God gives you opportunities, and you make sacrifices for something that's greater.'
In slightly less confusing matters, Kanye West went on to talk about love and the birth of his daughter Nori West, last June. 'I think I have to experience it for another few years to be able to give you an opinion. It's all brand new, how it feels to be a father.
'There are something thing that I understand, certain things that I don't understand, certain things that I like to get off my chest in interviews, certain things that I want tot talk about,' he added. 'But when we talk about love, I don't have an answer. All I can say is that I'm happy I have it.
'If someone has got all the money in the world, they'd still want love,' he explained earlier in the interview.
Offering inspiration with the best advice he'd ever been given, Kanye said: 'Follow exactly what you want to do.
'We've been taught since day one to stop believing in our own dreams. We've had the confidence beaten out of us since day one, and then sold back to us through branding and diamond rings and songs and melodies.
'So I hope that there are people out there laughing. Laugh loud, please. Laugh until your lungs give out because I will have the last laugh.'
Meanwhile Kanye West has managed to finally win over the fashion pack in Paris, debuting his latest collection for A.P.C during Haute Couture week.
Got a tablet? You can now download Marie Claire magazine straight to your iPad, Kindle (just search the store for 'marie claire magazine'), Nook or Google Nexus.
Celebrity news, beauty, fashion advice, and fascinating features, delivered straight to your inbox!