Johnny Depp Breaks His Silence On Vanessa Paradis Split
The Lone Ranger actor has opened up about the breakdown of his relationship in an intimate interview with Rolling Stone magazine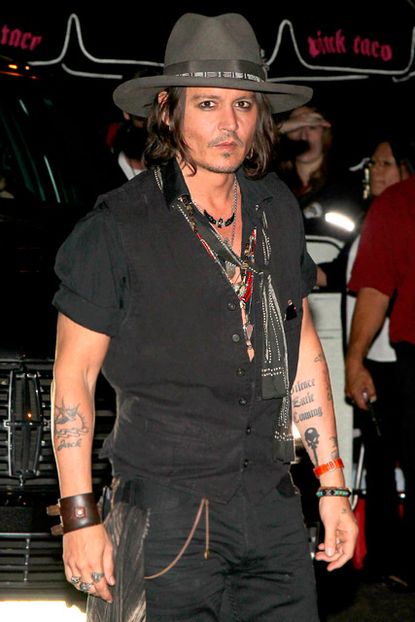 (Image credit: Rex Features)
The Lone Ranger actor has opened up about the breakdown of his relationship in an intimate interview with Rolling Stone magazine
Johnny Depp rarely talks about his love life in interviews, but the 50-year-old actor has now finally chosen to open about about the breakdown of his relationship in an intimate chat with Rolling Stone magazine.
While promoting his new movie The Lone Ranger, Johnny talk about how he's coped with his split from Vanessa Paradis and why he's decided to stop drinking.
He says: 'The last couple years have been a bit bumpy. At times, certainly unpleasant, but that's the nature of breakups, I guess, especially when there are kiddies involved. Relationships are very difficult.'
The pair announced their shock split last summer after 14 years together. They have two children – Lily-Rose, 13, and John, aged 11. Johnny adds that despite the break-up, he's been able to maintain a civil relationship with the mother of his two children.
He says: 'It wasn't easy on her. It wasn't easy on me. It wasn't easy on the kids. So, yeah. The trajectory of that relationship – you play it out until it goes, one thing leads to another. So for whatever reason that ceases, it doesn't stop the fact that you care for that person, and they're the mother of your kids, and you'll always know each other, and you're always gonna be in each other's lives because of those kids. You might as well make the best of it.'
Johnny, who's thought to be dating his Rum Diary co-star Amber Heard, also admitted that quitting booze helped him to get over his split. The actor has been known to enjoy a tipple or two and made headlines in the 90s for trashing the odd hotel room. But those days are long gone…
He says: 'In terms of the breakup, I definitely wasn't going to rely on the drink to ease things or cushion the blow or cushion the situation. Cause that could have been fatal. I felt it was my duty to be real clear throughout that. I had something pretty serious to focus on, really, which was making sure that my kids were gonna be cool.
'They've been incredibly understanding, incredibly strong throughout the whole ordeal. And it's hard on every side. You know, Vanessa's side, certainly not easy. My side, not easy. The kids are the most complicated.
'The thing is, kiddies come first. You can't shield them, because then you'd be lying. So you can at least be honest with your kids, and you say the absolute truth to your child – that was very important to not pussyfoot around.'
Love that he calls them 'the kiddies'.
ARE JOHNNY DEPP AND AMBER HEARD AN ITEM?
JOHNNY DEPP & VANESSA PARADIS: THEIR RELATIONSHIP IN PICS
Got a tablet? You can now download Marie Claire magazine straight to your iPad, Kindle (just search the store for 'marie claire magazine'), Nook or Google Nexus.
Celebrity news, beauty, fashion advice, and fascinating features, delivered straight to your inbox!