FIRST LOOK! Lady Gaga's glam Rolling Stone cover
'I feel dead when I'm not performing' the singer revealed in a new interview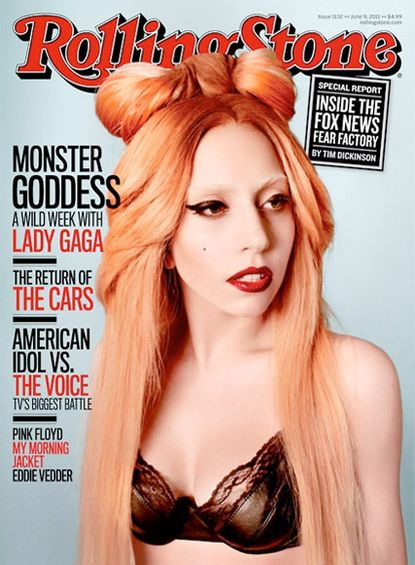 'I feel dead when I'm not performing' the singer revealed in a new interview
Check out Lady Gaga's glam Rolling Stone cover! The outlandish singer has posed for a series of new snaps to celebrate the release of her Born This Way album, and revealed in a new interview: 'I feel dead when I'm not performing'.
THE WEIRD AND WONDERFUL STYLE OF LADY GAGA Speaking of her close relationship with fans, the Lady told how she feels connected to her supporters by an 'umbilical cord' and that they are 'at least 50 per cent' of her person.
'When I am not onstage I feel dead. Whether that is healthy or not to you, or healthy or not to anyone, or a doctor, is really of no concern to me,' Gaga told Rolling Stone. 'I don't feel alive unless I'm performing, and that's just the way I was born.'
Sizzling on the cover in a racy leather bra, she said of her fans: 'We have this umbilical cord that I don't want to cut, ever. I don't feel that they suck me dry.
'It would be so mean, wouldn't it, to say, "For the next month, I'm going to cut myself off from my fans so I can be a person." 'What does that mean? They are part of my person, they are so much of my person. They're at least 50 percent, if not more.'
The songstress – who has yesterday released two brand new Born This Way promo shots – also hit back at critics, who struggle to understand her.
'Is it that you believe that I am attention-seeking or shock for shock's sake, or is it just that it's been a long time since someone has embraced the art form the way that I have?' she said.
'Perhaps it's been a couple of decades since there's been an artist that's been as vocal about culture, religion, human rights, politics. I'm so passionate about what I do, every bass line, every EQ. 'Why is it that you don't want more from the artist, why is it that you expect so little, so when I give and give, you assume it's narcissistic?'
Earlier this week, Gaga reportedly revealed plans to release a Christmas jazz album. 'I thought it would be really sweet to do a Christmas release of GaGa and the jazz standards,' she's said to have told Stephen Fry. 'I really want to do it. I've spoken to my manager.'
Have you got your hands on Gaga's Born This Way Album? Thoughts please! Let us know in the comments box below.
THE WEIRD AND WONDERFUL STYLE OF LADY GAGA
Celebrity news, beauty, fashion advice, and fascinating features, delivered straight to your inbox!