Christian Bale quits Batman movies
Christian Bale reveals he will be hanging up his superhero cloak as The Dark Knight Rises will be his last Batman film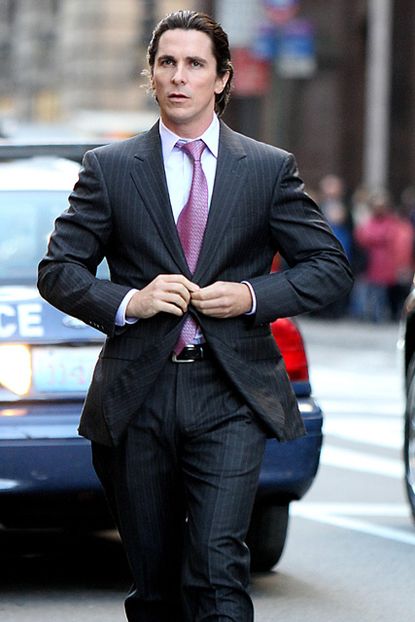 (Image credit: Rex)
Christian Bale reveals he will be hanging up his superhero cloak as The Dark Knight Rises will be his last Batman film
Christian Bale has revealed he will be hanging up his superhero cloak after making upcoming movie The Dark Knight Rises, confirming it will be his last Batman film. SEE ALL THE DARK KNIGHT RISES MOVIE PHOTOS Speaking with Inquirer Entertainment, Bale revealed, 'I wrapped a few days ago, so that will be the last time I'm taking that [Batman hood] off.'
In the lead up to the final shoot, the 37-year-old said he was struggling to say farewell to the secret life of Bruce Wayne, who he has played in three films, 'It's like saying goodbye to an old friend.'
'When you have the opportunity to be a character so many times, you develop another relationship with him, a more profound one.'
Bale's Batman trilogy has been under the directon of Christopher Nolan, who is said to also be retiring from the film franchise.
Bale hinted in the past that if director Nolan stopped making the Batman films, he too wouldn't carry on. He said, 'it's me and Chris – that will be the end of that Batman era.'
Their last efforts together, The Dark Knight, raked in $1billion (£648million) in revenue, as fans raced to cinemas to catch a glimpse of the late Heath Ledger, who won an Oscar for his role as the Joker.
Batman's nemesis Bane is played by British actor Tom Hardy, who Bale described as a 'phenomenal actor - I like working with him a great deal'.
As for Anne Hathaway who co-stars as Catwoman, Bale said she had 'the toughest job of any of us'.
Bale will join the likes of Val Kilmer, George Clooney and Michael Keaton in the Batman hall of fame.
Who do you think should take on the Batman role next? Let us know in the comments box below...
WATCH THE DARK KNIGHT RISES TRAILER HERE
Celebrity news, beauty, fashion advice, and fascinating features, delivered straight to your inbox!