Marie Claire is supported by its audience. When you purchase through links on our site, we may earn commission on some of the items you choose to buy.
The good news is that bosses have finally set a date. The bad news is we'll have to wait until November 16 2012 to see the final Twilight instalment
It's official, Twi-fans! At last movie bosses have settled on a release date for the final Twilight film. But we're going to have to wait until November 2012 to see the last ever flick.
SEE ALL THE LATEST TWILIGHT PICS HERE!
Directed by Bill Condon, Breaking Dawn's set to be split into two movies, with the first one set for release on November 18 2011.
So there will be no rest for Rob, Kristen and the rest of the cast, who are all returning for the final two movies.
With a release date of November 16 2010 – almost one year to the day after Breaking Dawn round one – they'll have to start filming the second installment straight away, if they're going to be ready for the release date on time.
Meanwhile, there is no confirmation as yet as to how the book will be split, but after seeing the script,Kristen Stewart offered her own thoughts on Breaking Dawn, promising bosses will stick to the story as the scenes heat up.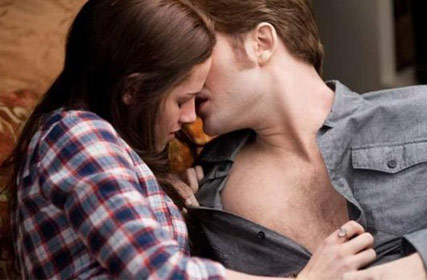 'It does actually literally get more physical [in Breaking Dawn],' she revealed to Access Hollywood of the couple's sex scenes.
'It doesn't get more action-packed … [But] they definitely get more physical. Well, they get married.
'They're man and wife now. They have a kid and stuff too, so, I guess to get there that happens,' she adds.
'We totally have sex – finally!'
Are you looking forward to seeing the final Twilight instalment? Let us know in the comments box below.

ROB AND KRISTEN RELATIONSHIP HISTORY